Barley bread is flatbread made either using barley flour or pearl barley. Generally, the barley bread will be dense and will have crispy outsides. It can be cooked in a variety of different ways, including grilling, frying, and baking, each of which produces slightly different results. Most recipes for barley bread will include barley flour, water, salt, baking powder, and oil. Some chefs add different ingredients to the bread, such as eggs, milk, and honey.
Either barley flour or pearl barley can be used to create barley bread. Most chefs use barley flour to make the process of cooking it easier, but the additional density and texture of pearl barley is preferred by some. Barley flour can be mixed directly with the water and other ingredients of the bread to form dough, but pearl barley must be cooked and partially blended before using for the bread. Any bread made with any type of barley could be classified as barley bread, but generally, the bread is a circular flatbread with crispy outer edges.
Generally, the dry and liquid ingredients used to make barley bread will be prepared separately and then mixed together to form a dough. Barley flour, baking powder, and salt are the most common dry ingredients used. The most basic recipes will use water as the only liquid ingredient, but others include other ingredients such as eggs and milk. Some chefs also add some oil to the bread mixture, but this is dependent on the individual chef's preferences. Both the liquid and dry ingredients are then mixed together to make dough.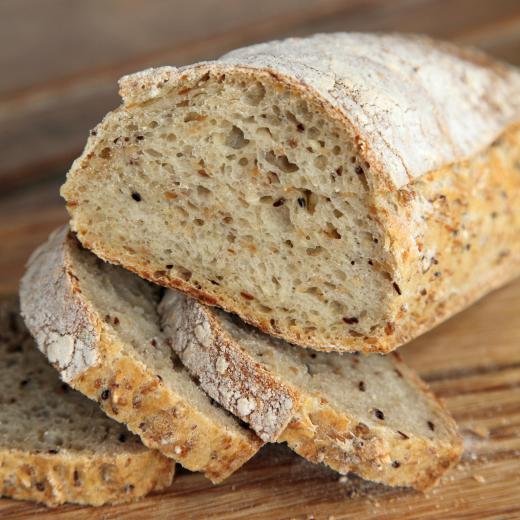 Chefs then shape the dough into a round, flat shape. Generally, barley bread will be around 1 inch (2.5 centimeters) thick, and scored into slices on the top before cooking. Many different methods of cooking can be used to make barley bread. Some chefs prefer to oven-cook the mixture for around 20 to 30 minutes, and others prefer to use a grill. It is also possible for chefs to shallow fry the bread in olive oil to cook.
Most people prefer the taste of barley bread just after it has been cooked. The bread can be grilled and eaten with butter, or alternatively served as a side to a soup or salad. Some people like to eat the bread with garlic and cumin-infused natural yogurt. The nutty taste of barley bread also leads many people to eat it with honey.
AS FEATURED ON:
AS FEATURED ON:








Barley grains.

By: ChantalS

Barley bread with sesame seeds in it.

By: schankz

Barley.

By: Maurice Metzger

Barley bread is typically dense and has a crispy crust.