What is Boneless Chicken Breast?
Boneless chicken breast is simply chicken breast that has been deboned, or had the bones removed. Skinless boneless chicken breast has been skinned and deboned. Both of these procedures are done by the butcher, whether that's in a small, locally owned butcher shop or a nation chain, such as Tyson. These extra steps are the reason why skinless boneless chicken breast and boneless chicken breast are the most expensive cuts of chicken meat.
Many experts promote skinless boneless chicken breasts as the best for you. It's low in fat, has almost half the fat of dark meat, and is high in protein and niacin. Niacin is a B vitamin and helps translate energy in carbohydrates, protein, and fat into energy for the body. Boneless chicken breast has about 3 grams of fat for a 3 ounce (85 grams) serving. It has about 142 calories in those 3 ounces (85 grams) and 26 grams of protein.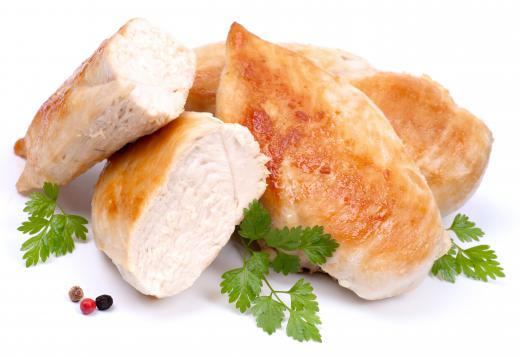 However, dark meat is not without benefits of its own. Dark meat is loaded with selenium and its fat content is a mixed bag of saturated, polyunsaturated, and monounsaturated fats. It's also higher in iron and zinc that white meat. There's no good reason that a health conscience individual shouldn't include both white and dark meat in their diet.
One way to cut down on the cost of meat is to get meat that is less likely to be contaminated because it less processed, and include both white and dark meat into your diet is to buy whole chickens. You can buy fresh or frozen and still de-bone and skin it yourself. It is recommended to get chickens that are the coldest, sitting in the very back of the case. The closer the chicken is to the warmer air the more opportunities it has to start cooking some bacteria. Never throw away the bones and fat, though. You'll want to keep that for making homemade chicken stock.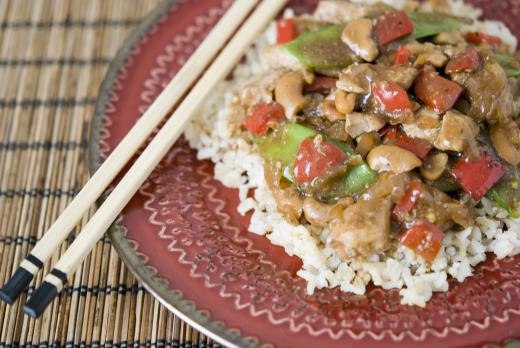 Once you have your boneless chicken breast or two, there's no end to the things you can do with it. You can grill it, bake it, fry it, pound it flat and bread it, or cut it thin and stir fry it. Coating a piece of boneless chicken with high fiber bread or cereal crumbs and baking instead of frying is great way to save on calories. Stir fry chicken is an easy way to add a serving of vegetables to your meal. Remember to go easy on the sauce to save calories that way too. If you were adventurous enough to make your own chicken stock, you might want to use it make your own egg drop soup to go with your stir fry.
AS FEATURED ON:
AS FEATURED ON:








By: Christian Jung

Chicken breast is high in protein.

By: Viktor

Boneless chicken breasts are versatile and can be used in various recipes.

By: Periwinkle Studio

Innumerable stir-fry variations can be made with chicken breasts, vegetables and sauce.

By: taro911

Chicken with the bones still in is useful for making chicken stock.

By: Stepan Popov

Boneless chicken breast can be teamed with brown rice for a nutritious meal that's easy to prepare.

By: marrakeshh

Grilled boneless chicken breast adds a protein boost to green salads.