Coleslaw, also written "cole slaw," has become a part of traditional American cooking. In the United States, especially in the South, it is an important side dish, and a staple at picnics, barbecues, and even on some fast food chain menus. Many restaurants that specialize in sandwiches offer coleslaw with their sandwiches, and a few actually include it as a condiment within their sandwiches. While, in America, coleslaw often accompanies barbecue, hamburgers, hot dogs, and sandwiches, it is a common side dish to pizza in Sweden.
Many culinary experts and historians believe that coleslaw has been consumed, in its most basic form, since Roman times. However, modern recipes, which are usually made with mayonnaise, could not have been developed until the 18th century, when that condiment was created. In its simplest form, coleslaw is a white cabbage salad. Other fruits and vegetables such as apples, pineapples, red cabbage, and carrots may also be added to it. Once the vegetables have been shredded, a tart dressing made of oil and vinegar is traditionally added.
The popularity and long history of coleslaw has yielded many regional forms of the dish. Currently, the most common kind is dressed with mayonnaise instead of vinaigrette. However, in some places, coleslaw is dressed with mustard. There is a variation made with broccoli instead of or in addition to cabbage that is called "broccoli slaw." No matter what type of dressing is used or what vegetable variation makes up the slaw, the dish is almost always allowed to sit for a few hours or overnight before serving.
The word "coleslaw" most likely came from the Dutch word koolsalade, which means "cabbage salad." However, in Dutch, koolsalada is often shortened to koolsla.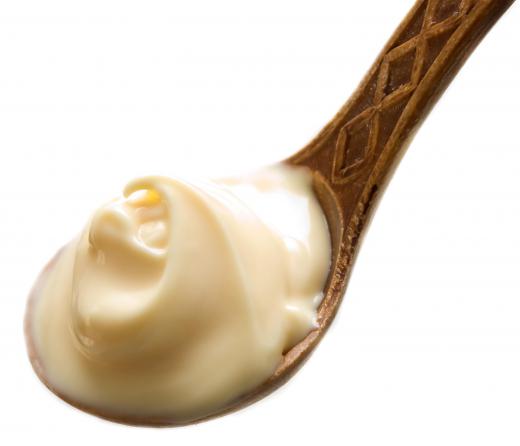 There are many cabbage recipes around the world, and coleslaw has culinary cousins all over the globe. Korean kimchi, for example, is a similar kind of cabbage side dish. Furthermore, sauerkraut is a very popular German cabbage side dish. In fact, Reuben sandwiches, which are traditionally dressed with sauerkraut and Russian dressing, are now often served with coleslaw.
AS FEATURED ON:
AS FEATURED ON:








By: xiangdong Li

Apples are sometimes included in coleslaw.

By: Alexandra

Traditional slaws often include a mayonnaise-based dressing.

By: Malyshchyts Viktar

Pineapple can be added to coleslaw to give the dish a sweet flavor.

By: Picture Partners

Oil and vinegar are important components of traditional coleslaw.

By: sumnersgraphicsinc

Many delis serve their sandwiches with a side of coleslaw.

By: Goran Bogicevic

There are many variations on coleslaw, including slaw made with broccoli or other fresh veggies.

By: Sasajo

Shredded cabbage is a primary ingredient in coleslaw.

By: Monkey Business

Coleslaw is a popular side dish at backyard barbecues, particularly in the southern United States.