What are Some Examples of Israeli Cuisine?
Israeli cuisine is one of the most eclectic worldwide. Because Israel is such a new country, Israeli cuisine is a mix of dishes from different nations, from the popular Russian's blintzes to the Hungarians' heavy use of paprika. Stuffed cabbage, considered a staple of Israeli cuisine, actually originated in Eastern Europe; couscous, also popular, is a staple food in North Africa. The examples go on and on.
The only true Israeli cuisine is not actually Israeli at all, but Jewish instead. The difference is on the dietary laws that make specific fare, including pork and certain seafoods, unacceptable for human consumption. Kosher foods, which do not allow for a mixture of milk and meats, are another staple of Israeli cuisine. Aside from fish, most seafood is not considered kosher, so it's not part of the traditional Israeli cuisine. This includes anything from catfish and squid to oysters, shrimp, and lobster.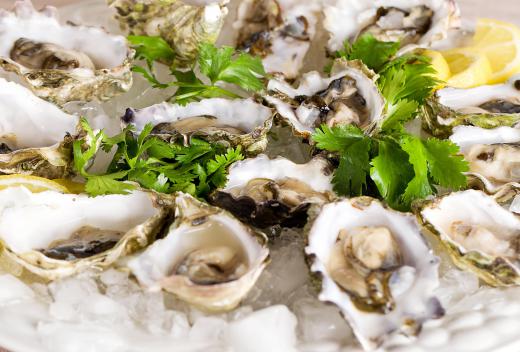 Vegetable food is a staple of Israeli cuisine. Historically, vegetables, known as yara in Hebrew, are either eaten raw or made into vinaigrettes, a mix of vinegar, oil, and aromatic substances. Cucumbers are one of the most popular vegetables, but leeks, onions and garlic are also frequently pickled and eaten as a main dish. Another example of the popularity of vegetables in Israeli cuisine is the well-known Israeli salad, a mix of tomatoes, onions, and cucumbers, but not lettuce.
Some dishes that originated in Israeli cuisine are now popular around the world. Knishes are a perfect sample. Usually made with a thin dough covering a potato, sauerkraut, or broccoli filling, a knish can be either fried or baked. kugel, a casserole made with egg noodles, different vegetables, and potatoes is also popular. The best know example, however, may be the latkes or potato pancakes, which are often topped with sour cream or applesauce.
Some other typical examples of Israeli cuisine include:
Blintz (flat pancake rolled around a filling)
Carciofi alla giudia (fried artichokes)
Challah (traditional braided bread)
Cholent (stew of beans, beef, barley and sometimes potatoes)
Hamantaschen (triangular cookie filled with poppy seeds or prunes)
Holishkes/Huluptzes (stuffed cabbage)
Kreplach (meat-filled dumplings)
Matzah balls (dumplings made with non-fermented bread, eggs, and flavorings)
Pumpernickel and rye breads
Tzimmes (casserole made with fruits, vegetables, and meat)
AS FEATURED ON:
AS FEATURED ON:








By: Mat Hayward

Oysters may be featured in Israeli cuisine.

By: hiphoto39

Because squid is not considered kosher, it is not popularly used in Israeli cuisine.

By: PhotoEd

Lox, a thin filet of cured, cold smoked salmon, is common Israeli cuisine.

By: Sasajo

Sauerkraut is featured in Israeli dishes like knishes.

By: seagull_l

Couscous, a staple of North Africa, is popular in Israel.

By: anjelagr

In Israel, potato knishes are often topped with sour cream or applesauce.