Garam masala is a dry spice mixture that is used throughout India and in parts of Asia. In India, masala refers to any type of spice, while garam implies heat or warmth, so this name means "hot spice." The spice mixture is not hot in the way that chili heavy spice mixtures are, although it can be aromatic and pungent. It usually adds a kick to foods, and is also believed to create a sense of happiness and well being.
Like other crucial elements of Indian cuisine, garam masala has been used for centuries and adopted by neighboring nations. Adaptations of the mix to suit varying cuisines and palates can be found all over southeast Asia. Northern Indian and Punjabi cuisine use large amounts of this spice, and less of the pungent curry mixtures found in the southern part of India. Many cooks in Pakistan, who are heavily influenced by Punjabi cuisine, also use it in their traditional foods.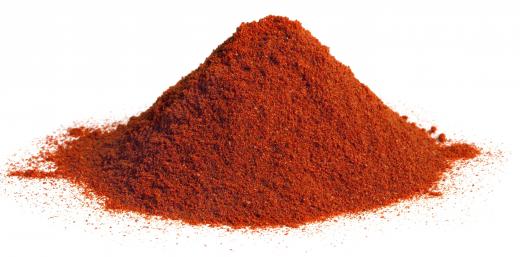 Garam masala mixes can be found in many markets, although most cooks agree that it tastes better when it is made fresh. A traditional style mix may include spices like cumin, nutmeg, cinnamon, black pepper, chili powder, mace, cardamom, fennel, fenugreek, and coriander. Depending on the region of India, the dish, and the cook, the mixture will vary. To prepare the mixture, the spices are ground and then toasted on a hot griddle. Pre-ground spices can be used, although they will not be as pungent. The toasted spice mixture is used quickly, and any leftovers are tightly sealed and kept for no more than six months.
Unlike other spice mixes and curries, garam masala is usually added at the end of the cooking process so that the pungent, spicy flavor comes through better. It is also sometimes added to fried doughs and batters to add an extra note of spicy texture. In both cases, it is used in small quantities because the flavor can be overwhelming in large amounts.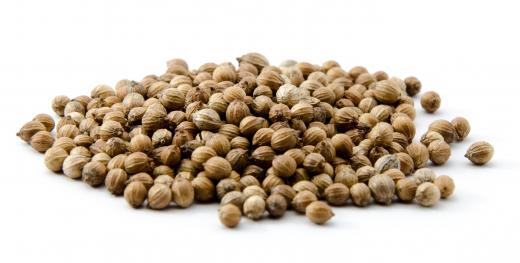 When India and Asia began to be explored, many of the spices used in garam masala were brought to Europe and incorporated into the cuisine of curious nations. This mixture makes an excellent dry rub for meat, and can also be used in sauces and marinades to great effect. Adventurous cooks might want to try experimenting with this piquant, flavorful, and flexible spice mixture, which can easily be made to taste at home.
AS FEATURED ON:
AS FEATURED ON:








Garam masala often includes chili powder.

By: marylooo

Ground cumin, which can be included in garam masala.

By: areif

Garam masala typically includes ground coriander.

By: Natika

Cinnamon is often included in garam masala mixes.

By: Thomas Francois

Nutmeg is a popular addition to garam masala blends.

By: margo555

Cardamom is a typical ingredient in traditional garam masala spice mixes.

By: jedi-master

Fenugreek seeds are a popular ingredient in Indian dishes.

By: paul_brighton

Garam masala is widely used in Indian curries.

By: lidante

Creamy yogurt and fresh herbs are often added to curry dishes made with garam masala spices.

By: Tupungato

Garam masala is a spice mixture used throughout India.