A marriage of rich, warm butter and strong, pungent garlic, garlic butter is a spread that is employed in a variety of delicious dishes. Bought in supermarkets or made in the kitchen at home, garlic butter sauce can be used on everything from vegetables, to breads, to pastas and main courses. People who love butter and garlic often substitute garlic butter in their daily cooking.
When searching for a use for the creamy butter spread, one usually needs to look no further than the current contents of the refrigerator or pantry. Starches like rice, noodles, breads, and even potatoes can be flavored well with garlic butter. Meats, such as steak, chicken breast, or pork loin, can be drizzled, sautéed, or even marinated in the dressing. Seafood, like clams, shrimp, and halibut, can be prepared with tasty lemon garlic butter, while nearly any vegetable, from corn on the cob to Brussels sprouts, can be enhanced with the spread.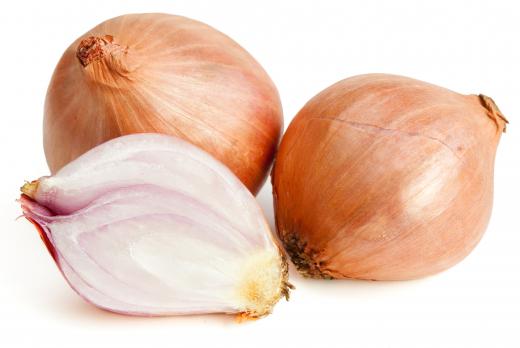 While many tasty variations can be made, only two ingredients are necessary to complete a garlic butter recipe at home: crushed, minced garlic and any butter of choice. Beat half of one cup (113 milligrams) of butter, then stir in one to two cloves of garlic. The simple yet tasty spread is then ready to be used on any food of choice.
There are dozens of ways to add depths of flavor to this simple garlic butter recipe. Many cooks like to add lemon for a tart note, while others blend in margarine along with the butter for an added richness. Hot sauce, black pepper, paprika, and other spicy additions can be mixed in for a mouthful of kick, while finely ground onions or shallots can help bring forth the flavor of the garlic.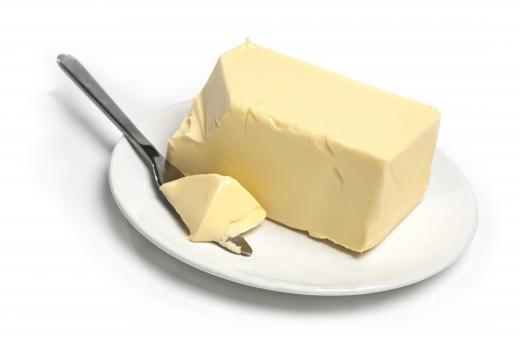 Nearly any spice on an herb rack can be added to buttery garlic spread. Parsley and thyme are popular additions. A dash of ground mace can add warmth to the butter, while dried basil and oregano can provide it with an Italian flair. Rosemary can give the flavoring a woodsy, pine flavor that works well with meat dishes.
If mixing this spread in a blender, a low to medium speed should be used. The butter should be mixed thoroughly, but not whipped, unless preferred while serving on the side. Unsalted, low-fat, or alternative butters may be used for healthier alternatives. Additional cloves of garlic can also be used per the cook's taste.
AS FEATURED ON:
AS FEATURED ON:








Garlic butter often includes finely ground shallots.

By: Multiart

Butter.

By: Barbara Pheby

Parsley can be used to flavor garlic butter.

By: Christian Jung

Garlic butter pairs well with chicken breast.

By: Taiga

Oregano can give garlic butter an Italian flair.

By: Natalia Mylova

Pork loin is often marinated and cooked in garlic butter.

By: Leonid Nyshko

Fresh garlic is one of the main ingredients of garlic butter.