What is German Potato Salad?
German potato salad is a popular side dish for a hearty meal. Containing a rich mixture of sweet and sour tastes tossed with bacon and potatoes, German style potato salad is best served hot. While it is somewhat different from traditional potato salad, it is worth considering as an alternative.
The actual origin of this dish is southern Poland, and there are two basic recipes. The lesser-known Northern style is close to American potato salad, made with mayonnaise, and served cold. The style more commonly known as German potato salad contains no mayonnaise, and it is served hot or warm.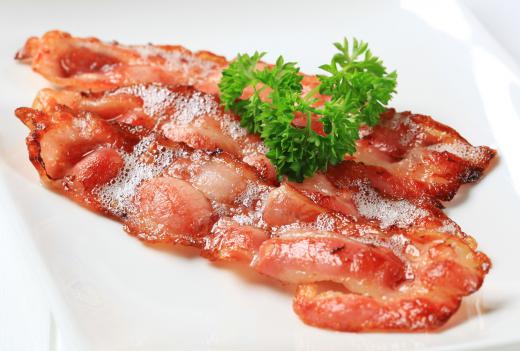 The basic ingredients are potatoes, bacon, vinegar, sugar, and onions. It doesn't matter much if the vinegar is cider or white, or if the potatoes are red or russet. What makes a German potato salad recipe really stand out are the added spices, herbs and little extra touches. It is not hard to make, and recipes are usually very forgiving. The ingredients are fairly inexpensive, and leftovers may be reheated without losing any of the flavor.
Recipes for hot German potato salad are often calculated in dashes and pinches, allowing for a bit of creativity to suit the chef's culinary imagination. Some cooks will add herbs such as dill or rosemary for a richer flavor with more depth. Others will add a sprinkling of celery seed, chives or parsley. Chefs who like a little kick might add a bit of dried or prepared mustard and a little cayenne pepper. Of course, a few dashes of salt and ground black pepper are almost always included in a recipe for this salad.
Many people think hot potato salad is best served with sauerkraut and sausages, such as kielbasa. At Octoberfest celebrations, large dollops of potato salad are consumed as a compliment to beer and bratwurst. It is also a favorite side dish for a family dinner or a special German feast. Cooks can take a great deal of pride in their potato salad recipes, and cooking competitions are common.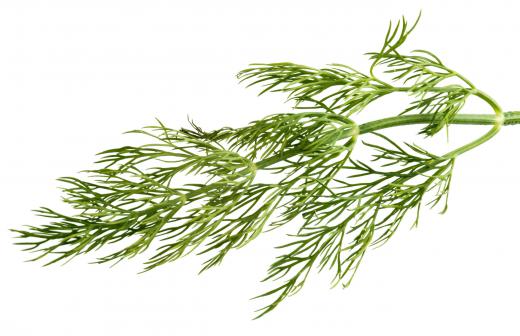 The Internet is a great place to find hot German potato salad recipes. There are multiple coking websites with authentic recipes passed down for generations. Seasoned chefs may know at a glance if a particular list of ingredients will suit their taste, but beginners should look for testimonials from satisfied chefs. A long list of happy comments can be the sign of a good German potato salad recipe.
AS FEATURED ON:
AS FEATURED ON:








By: Viktor

German potato salad usually contains bacon.

Kielbasa, which is often included in hot German potato salad.

By: Africa Studio

Potatoes.

By: Viktor

Dill weed is often used to flavor potato salad.

By: travis manley

Some cooks add a sprinkle of celery seed to German potato salad.

By: Barbara Pheby

Parsley can be used to season German potato salad.

By: SunnyS

Bratwursts are commonly served with a side dish of German potato salad.

By: Amelia Crook

Vinegar is added to boiled potatoes for German potato salad.

By: Sasajo

Sauerkraut is often served with hot potato salad.