Havarti is a creamy semi-firm Danish cheese, named after the farm where it was developed at the turn of the twentieth century. It's a mild cheese, similar somewhat to Tilsit or Gouda in flavor, and is peppered with small holes and irregularities. The cheese has a distinctive flavor that develops on the tongue, and can pack a subtle punch. In addition to being sold plain in blocks, it is often flavored with dill, caraway, cumin or other spices.
This cheese was initially created by a Danish farmer's wife, who traveled to many parts of the world exploring the art of cheese making. Upon her return, she decided to experiment with different methods of making cheese, and named her finest creation after the farm it was made on. Havarti is made like most cheeses, by introducing rennet to milk to cause curdling. The curds are pressed into cheese molds which are drained, and then the cheese is aged. This cheese is a washed rind cheese, which contributes to the subtle flavor of the cheese.
Havarti is a slightly flexible cheese with a creamy, buttery flavor. The flesh is usually creamy to pale yellow, and heavily pocked with holes, although the cheese itself has a very creamy texture. If eaten young, the cheese is often considered to be somewhat lacking in flavor, but if allowed to age, it will attain a subtle, slightly acidic flavor which is delightful. It is often offered with fruit and crackers, and pairs well with many wines.
The cheese is often used in place of stronger varieties like Gouda and Emmentaler, when the taste of a cheese is desired without a strong flavor. It often appears on sandwiches, in fondue, and on salads. The cheese comes in low fat versions as well as an enriched full cream type, which tends to melt in the mouth. An enriched cheese can sometimes be intensely cloying, with the heavy creamy texture, and should be used sparingly or in a strong dish which is capable of handling the heavy flavor.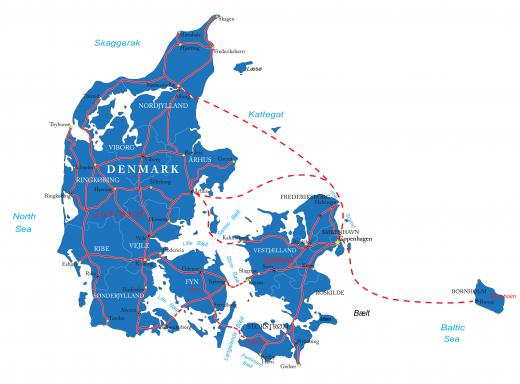 Havarti has become common in many parts of the world. The low fat version is very popular, as it retains much of the flavor of the cheese, unlike other low fat cheeses that tend to suffer in both flavor and texture. Herbed versions, in particular, are becoming increasingly common on wine and cheese platters. Enriched cheese is often paired with assertive wines for a pleasant tasting experience.
AS FEATURED ON:
AS FEATURED ON:








Slice of havarti cheese.

Havarti cheese on bread.

By: bogdanserban

Havarti is a creamy semi-firm Danish cheese, named after the farm where it was developed at the turn of the twentieth century.

By: manuart

Havarti is sometimes used in lieu of stronger cheeses such as Gouda and Emmentaler.