What is Italian Seasoning?
Italian seasoning is a spice mixture popular in many parts of the world that attempts to capture some of the most common flavors of Italian cooking. It is typically sold as a dried herb mix. It can contain a wide range of ingredients, but rosemary, oregano, thyme, and marjoram are usually some of the most common. As its name suggests, cooks use it most often in Italian cooking, but many people also consider it to be something of a kitchen "staple" that can add a quick flavor boost to many different meals.
Basic Concept
Italian food is very popular all over the world, and cooks in many countries wish that they could imitate the fresh flavors of the pizzas, pastas, and hearty meat stews made in authentic Italian kitchens. The main idea behind Italian seasoning is to capture some of the boldest flavors of this style of cooking. Smelling the mix is often said to bring back memories of pizzerias or trattorias, simple Italian restaurants.
Pre-packaged "Italian seasoning" is widely believed to be an American innovation, though its popularity extends to most of Western Europe, and is usually also available in places like Australia, New Zealand, and South Africa. At the same time, it is often all but impossible to find in any true Italian markets.
Primary Ingredients
There is no universal recipe setting out what should or should not be included in the mix. Most manufacturers start out with a basic blend of herbs that are popular in Italian cooking, but often also add different tastes to make their creation more distinctive. Savory, parsley, garlic powder, and sage are popular additions. Red pepper flakes can also be included for heat; cilantro and coriander might be added for color, as well. People who are picky about what their seasoning contains often have to look carefully at ingredient labels, as the "Italian" designation usually says more about how the seasoning should be used than what it contains.
Main Uses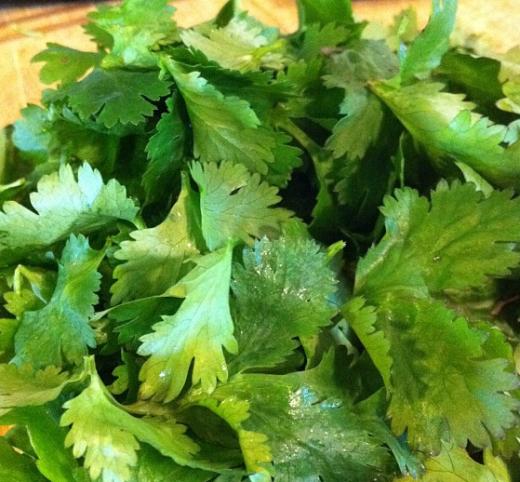 As far as spices go, Italian seasoning is quite versatile. Many pasta recipes call for it, and it is a common addition to broth-based soups and spaghetti sauces. Cooks may sprinkle it on top of pizza crust or use it to liven up baked meat dishes, particularly poultry. U.S. cooks frequently blend the mixture with butter and Parmesan cheese to make a spread for crackers or toast.
The seasoning is also quite popular with vegetables, particularly roasted potatoes, zucchini, and eggplant. When blended with olive oil, the spices make an excellent coating or batter that can seal in flavors during baking.
Criticism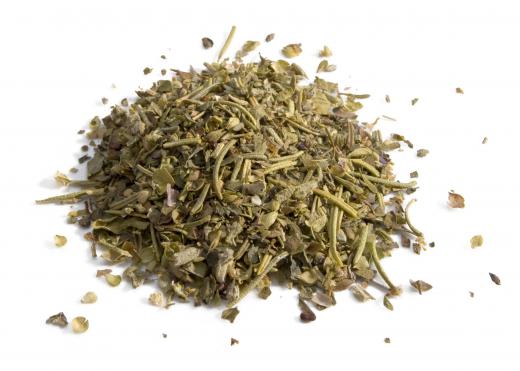 Culinary experts are often skeptical of this sort of seasoning, pointing out that few if any "authentic" Italian cooks would actually use herbs sold in mixes or blends. Traditional recipes may call for one or two herbs, but rarely five or six at once. Most Italian cooks use fresh ingredients, too, and will employ dried herbs only in situations of dire necessity.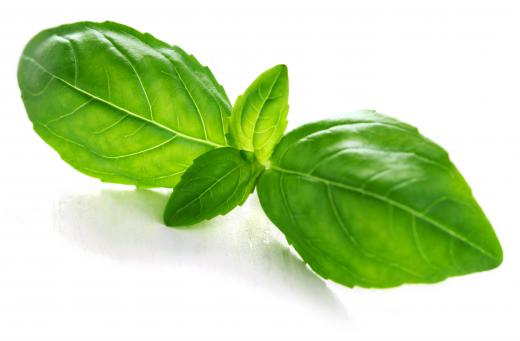 These claims have done relatively little to dampen the spice's popularity. Many stores will even stock more than one variety or brand. The name "Italian seasoning" can sometimes also be found on other related products, like bread crumbs, marinades, and croutons that embrace a range of savory, Italian-esque flavors.
Tips for Home Blending
Cooks who either don't have Italian spices on hand or don't want to buy them can often create their own mixture at home that will rival anything found in a store. A basic blend begins with about 2 tablespoons (25 grams) each of dried basil, rosemary, oregano, thyme, and marjoram, though additions or substitutions can always be made to suit individual tastes.
People with access to fresh herbs might also want to try making the seasoning without resorting to dried ingredients. Dried herbs tend to have a more concentrated flavor, but rarely beat fresh ingredients when it comes to overall taste and texture. It is usually a good idea to chop fresh leaves very finely before blending. Depending on the recipe being made, cooks may need to use more fresh herbs than they would dried herbs, if only to be sure that the taste comes across as strongly as is needed.
Preserving Freshness
Fresh herb blends will usually last for a few days if sealed in an airtight container, and refrigeration can help extend their life. Dried versions, on the other hand, can often last for up to a year or more, but should be carefully sealed and kept out of direct sunlight. A good way for cooks test dried herbs to see if they're still good is to crush a small pinch between the fingers, then check for color and smell. A blend that remains pungent and still has some green to it is usually still good; one that is tan or brown and doesn't smell like much has probably passed its prime. There are not usually any health risks associated with using expired or dull spice mixes, but recipes usually won't turn out as well.
AS FEATURED ON:
AS FEATURED ON:








By: denio109

Italian seasoning is often used in pasta dishes.

By: Marzia Giacobbe

Italian seasoning herb mix is used to capture the flavor of that country's cuisine.

By: Amber DeGrace

Italian seasoning may include cilantro.

Dried marjoram, which is often included in Italian seasoning.

By: Barbara Pheby

Basil is a common element of Italian seasoning.

By: Comugnero Silvana

Garlic powder is common in Italian cooking.

By: Brent Hofacker

Red pepper flakes can be part of Italian seasoning.

By: Barbara Pheby

Parsley is popular in Italian seasonings.

By: marilyn barbone

Croutons may be flavored with Italian seasoning.

By: Taiga

Oregano is a common Italian seasoning.

By: annie1961

Oregano and fresh herbs add flavor to chicken Marsala and other Italian entrees.

By: Joe Gough

Chicken cacciatore is flavored with oregano, garlic, and basil.

By: hitdelight

Along with tomatoes and mozzarella, freshly picked basil is used to make insalata caprese.