Piadina is a kind of thin flatbread common in Italian cuisine. It is sometimes compared to pita bread and lavash. Traditionally, this kind of bread is cooked in food kiosks and sold moments after being retrieved from the griddle and, perhaps, stuffed with sweet or savory fillings. This bread is made out of just a few simple ingredients including salt, flour, and water. The dough mixture also includes either olive oil or lard and sometimes a small amount of milk, which are important in binding the dough together before it is cooked.
Investigations into the culinary history of Italy and the surrounding regions have turned up literary references to piadina that date as far back as the 14th century. Traditionally, piadina was cooked on a teggia, which is a kind of terra cotta plate. It is very common today for piadina to be cooked on a hot griddle or even in a pan with a flat bottom. While the bread can be made at home, it is common for people to enjoy piadina that is purchased from piadinerie, which is a term that refers to the kiosks where this kind of bread is prepared and served.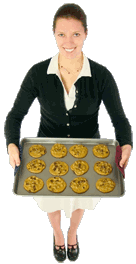 Much like other types of bread, piadina is very versatile in terms of the flavors that it can be paired with. Many people enjoy filling it with savory ingredients such as cold cuts, cured meats, and cheeses. The term filling is used here to describe the act of topping the bread and then folding it in two, much in the way that pitas and soft tacos are served after being stuffed. The cheeses that are used to fill piadina may be soft or hard and the savory ingredients that are enjoyed on this type of bread may be combined together, just as with sandwiches. Also, just as with sandwiches, piadina are eaten with the hands without the use of utensils.
There are also a number of sweet ingredients used to fill piadina. One such ingredient that is a favorite of many piadina lovers is a chocolate-like spread that is made out of hazelnuts. Others enjoy sweet ingredients such as jams and jellies. Variations with the bread itself usually have to do with size and thickness. These variations may be regional or may be preferences of the person preparing the bread.
AS FEATURED ON:
AS FEATURED ON:








Woman baking cookies