Korma sauce is a mild, creamy, curry sauce from Northern India. It has a very distinctive silky, rich flavor that many consumers find quite enjoyable, and variations on it can be found in many neighboring nations. Northern Indian restaurants around the world typically have a dish with this sauce on their menu; chicken korma is a common offering, and vegetarian korma may be available as well. Korma can also be easily made at home, for cooks who want to experiment with their own Indian food.
The base of this sauce is a mixture of yogurt, cream, and pureed nuts, blended with toasted spices. Ingredients can be marinated in the sauce before cooking, or slowly cooked in sauce so that they become infused with flavor. Both lamb and chicken are common pairings with korma in India, while Indian vegetarians may mix it with cauliflower, peas, potatoes, and an assortment of other vegetables.
Rice or breads like naan can be served with korma sauce. Both starchy sides will help to absorb the liquid, ensuring that the consumer sops up as much as possible while he or she eats. Naan can be used to scoop korma directly off the plate, while rice is generally layered under it. For an extra special korma dish, cooks may make saffron rice, or rice with a crunchy toasted layer on the bottom of the cooking pot, which is particularly prized at the dinner table.
To make a basic korma sauce, cooks should soak nuts such as almonds and cashews along with several crushed cardamom pods in water for a few hours or overnight in the refrigerator. They will then blend the soaked nuts with water and coconut milk for a vegan korma, or mix them with yogurt, milk, and white pepper. The blended mix should be set aside while the cook toasts ingredients such as minced garlic and ginger, saffron, and dried fruit, if desired, in oil. He or she will slowly add the creamy mixture, stirring carefully, and allow the sauce to simmer for 10-15 minutes.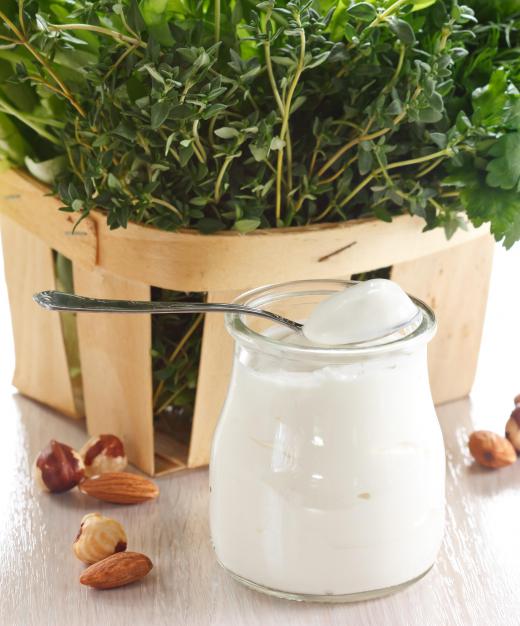 Chefs can marinate ingredients in the finished sauce, if they desire. They can also start a fresh pan to sear ingredients like chicken, vegetables, or lamb, and pour the sauce over these ingredients for a long simmering, which will bring out the flavors. Korma sauce can also be stored in a jar in the refrigerator for several days if the cook wants to set up the ingredients for an Indian food party several days in advance.
AS FEATURED ON:
AS FEATURED ON:








By: JJAVA

Sauteed chicken with korma sauce in a pan.

By: Monkey Business

Chicken korma curry is a very traditional dish.

By: lidante

Korma is a blend of yogurt, chopped nuts, spices and cream.

By: Dmitry Rukhlenko

Almonds, one of the ingredients in korma sauce.

By: Natika

Garlic, which is used in making garlic sauce.

By: margo555

Crushed cardamom pods are soaked with nuts to make a basic korma sauce.

By: creative soul

Yogurt forms part of the base of korma sauce.

By: ExQuisine

Cauliflower is sometimes served with korma sauce.

By: Bert Folsom

Minced garlic is included in korma sauce.

By: fkruger

Naan can be used to scoop korma sauce right from the plate.