Lunch meat is a meat that is sold already cooked, so that it can be eaten exactly as is. Some people refer to it as "cold cuts," in a reference to the fact that they are often eaten cold. There are a wide range of styles in the lunch meat family, ranging from SPAM® and other reclaimed meats to slices of honey roasted turkey. Most markets stock them, usually under refrigeration, and shoppers can also purchase them from a local butcher or deli in addition to preparing them at home.
The defining characteristic of a lunch meat is that it should be safe to eat exactly as is. Most are cooked to remove harmful bacteria and then held under refrigeration to ensure that they stay safe. Others may be cured in various ways; prosciutto, for example, is not cooked traditionally, but it has been cured so that it is safe to eat. These meats can be mild or spicy, recognizable as part of an animal or made from ground parts that are packed together into a block or sausage.
Many people like to use lunch meat in sandwiches; pastrami, ham, chicken, and turkey are all commonly used in this way. Many cultures have developed their own unique sandwich specialties that use regionally available meats and cater to local flavor preferences. Thin slices of meat can also be served on appetizer platters, or paired with things like fruit and cheese at a buffet.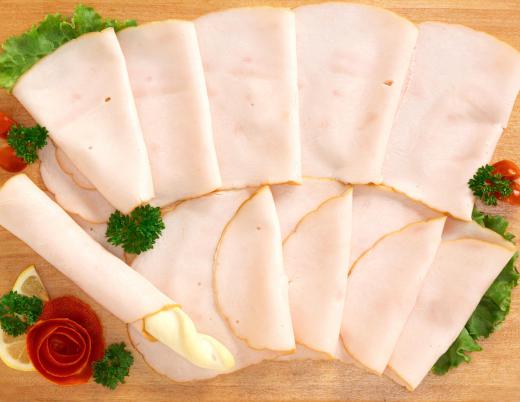 Many cold cuts are made from meat that has been brined and smoked, or seasoned with ingredients like peppers, honey, or various other spices. These have rich flavors that pair well with strong breads like rye or sourdough. Traditionally, cured meats like pastrami are popular with pickled ingredients such as sauerkraut, while salami and other cured Italian sausages go well with cheeses.
Lunch meats also do not have to be served cold. Many regional sandwich specialties like Reubens and the classic New York pastrami sandwich feature heated meats, for example, and varieties like ham can be chopped up and added to omelets, quiche, and other dishes.
Handling directions for lunch meats vary, depending on the meat and how it has been prepared. With cooked ones like leftover chicken or turkey, the meat should be kept refrigerated and used within a few days. Cured meats like salami can often be held at room temperature until they are opened, at which point they should be refrigerated and used relatively quickly. Sliced meats from a deli generally keep for only a few days under refrigeration, and people should always discard meat that looks or smells questionable.
AS FEATURED ON:
AS FEATURED ON:








A sandwich with lunch meat and cheese.

By: Studio Gi

Sliced turkey is a tasty lunch meat.

By: Mara Zemgaliete

Salami is a popular lunch meat.

By: robynmac

Roast beef is a popular lunch meat used in sandwiches.

Mortadella, a common type of lunch meat.

Sliced prosciutto.

A sandwich made with pastrami, a cured lunch meat.

By: Peredniankina

Lunch meat can be added to omelets.

By: sasaken

Canned ham is incredibly convenient, especially for people who cannot get fresh groceries very often.

By: Studiotouch

Lunch meats are used in po' boy sandwiches, subs, and hoagies.

By: sumnersgraphicsinc

Turkey or other lunch meats and crispy bacon make for a classic club sandwich.

By: Bert Folsom

Bologna is commonly used in sandwiches.

By: Minerva Studio

Many delis sell sandwiches made with smoked turkey and other lunch meats.

By: podm

The cold smoking method is often used on deli meats and can cause the meat to taste salty.

By: Boggy

Thin slices of lunch meat can often be found in a buffet.