Madeira sauce is a rich peppery sauce which is traditionally made with Madeira wine and served with meats like roast beef and chicken. The sauce is a bit complex, and it can take a long time to make Madeira in the traditional way, but the time investment is worth the flavor. For people who do not want to make their own Madeira sauce, the sauce is sometimes available at markets, especially during the holiday season, when people want to use it with dishes like roast goose and lamb.
The base of Madeira sauce is Madeira wine, a wine which has been made in Portugal since the 1400s. The wine has a distinct flavor because of the way in which it is fermented and handled; since Madeira was originally created for export in a period when goods were shipped, the Portuguese developed a wine which was sturdy enough to stand up to the rocking and swelling of a sailing ship. The wine is sweet to dry, with a tannish color and an alcoholic kick from spirits which are added during the fermentation process.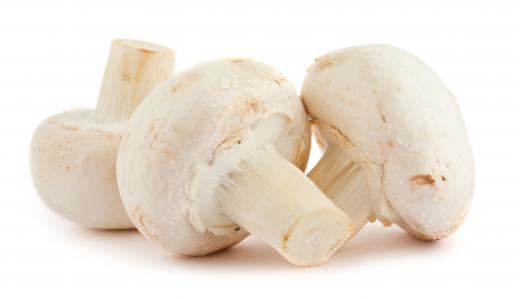 The first stage in making a Madeira sauce is making a roux with butter, finely chopped celery, scallions, and carrots. Once the roux is made, beef stock is stirred in, along with vegetables, mushrooms, and herbs. The mixture is simmered for around two hours and repeatedly skimmed to remove impurities before being sieved so that it has an even consistency.
Once this base sauce is completed, it is simmered in a saucepan with Madeira wine until it is reduced, and then it is sieved again before more Madeira is added, along with pepper and salt. Many people like to add butter to the sauce during this last stage to make it more rich and creamy. Once the wine sauce is finished, it can be spooned over roasts or kept under refrigeration for up to five days. The sauce can also be frozen for up to three months for future use.
This sauce is one among a group of traditional French sauces which are known as brown sauces. When made well, these sauces are rich, with layers of intense flavor which complement a wide range of foods. They do require patience, however; Madeira sauce is a good project for a rainy weekend day, since it takes several hours to make, and it requires that the cook be reasonably attentive.
AS FEATURED ON:
AS FEATURED ON:








By: mbongo

Mushrooms are usually included in Madeira sauce recipes.

By: robynmac

Madeira sauce is common served with roast beef.

By: andersphoto

Finely chopped celery is a key ingredient in the roux in Madeira sauce.