Made from the juices and pulp of the mango, mango nectar is a beverage that is free of carbonation and contains relatively few preservatives. It is considered to be an excellent source of several important vitamins and minerals. Mango nectar is yellow-orange in color and can be consumed by itself or mixed with other ingredients.
Mango Fruit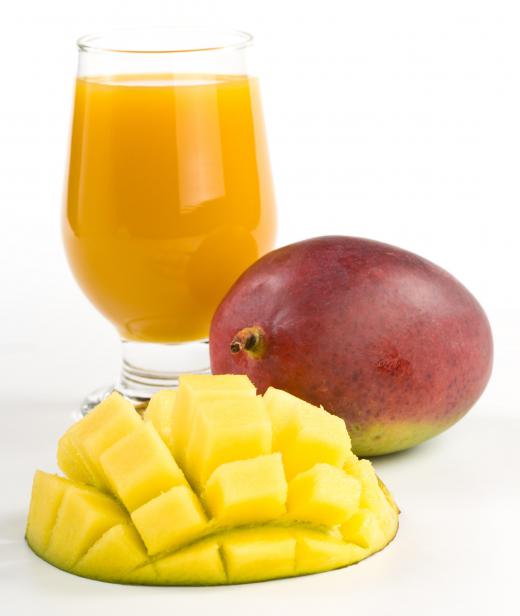 A fleshy tropical fruit that is native to India, the mango is noted for its sweet-and-sour taste. Some people compare this tangy fruit, which typically is yellow or orange, to an apricot, peach or nectarine. It is considered to be an excellent source of vitamin C and beta-carotene.
A Popular Beverage
Prepared with mango pulp, the nectar is sometimes marketed as mango juice. As a popular offering in health food stores and supermarkets, mango juice has gained a reputation for being healthier than many of the processed juices that are sold commercially. Over time, a broader variety of food shops and grocery stores have begun carrying beverages that contain mango blended with other fruit juices, such as orange juice or peach juice. Many people, however, prefer the distinctive sweet-and-sour taste of pure mango nectar over blends of juices, because they find the texture and taste to be more pleasing.
Use in Recipes
Mango nectar can be included in recipes for both mixed drinks and tasty treats. A combination of this nectar, vanilla ice cream and whole milk can produce a milkshake that is both nutritious and slightly exotic. As a dressing for tossed fruit, a small amount of mango nectar can be combined with mayonnaise to create a hint of extra flavor to enhance a salad made with chunks of honeydew, cantaloupe, strawberries and other tropical fruit. The same basic recipe can be used to create a slightly sweet dressing for a light salad composed of raw spinach, corn nuts and dried cranberries.
Use in Mixed Drinks
When it comes to mixed alcoholic drinks, mango nectar can be a way to add a different taste to old favorites. Substituting this nectar for orange juice in a traditional drink, such as a screwdriver, can add an unexpected layer of flavor. Mango nectar concentrates can be used to create a blender of daiquiris that are a nice change. In virtually any drink recipe that calls for fruit juice, mango juice or nectar can be substituted to provide a twist on the usual taste.
AS FEATURED ON:
AS FEATURED ON:








By: Dmitriy Melnikov

Mango nectar in a glass beside fresh mango.

By: Elena Schweitzer

Cantaloupe is often added to mango nectar.

By: quayside

Mango nectar can be used in place of orange juice in a screwdriver.

By: Mariusz Blach

Originating in Southeast Asia, the mango has more than 100 different varieties that are all high in vitamin C and beta-carotene.

By: yellowj

Mango nectar is an ingredient in some tropical cocktails.