Amchur is an Indian spice made from the flesh of dried green mangos. It preserves the acidic, tart, and slightly spicy flavor of unripe mangos for use in curries and other dishes. Amchur is available in whole and powdered forms in Indian specialty stores, as well as grocery stores in areas with a large Indian community. It can be used in a wide assortment of ways, and will lend an authentic flavor to many Indian dishes. A little bit of the spice goes a long way, so cooks should remember to use amchur in moderation.
The mango is an evergreen tropical tree, Mangifera indica, native to Southern Asia. Numerous varietals of the tree are cultivated, and all of them produce roughly oblong smooth skinned fruits with large pits. Mangoes have been cultivated for use in Indian and Southeast Asian cuisine for thousands of years. When well cared for, the trees will live and produce fruit for decades. The culinary traditions of many nations include mango in a variety of forms as a result of the ready availability of the ingredient. Ripe and unripe mangos are used fresh or preserved, with condiments such as mango pickle being very popular, especially in India.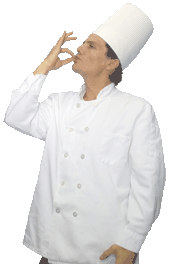 To make amchur, mangoes are picked while they are still unripe and sliced very thin. The mango slices are dried on racks and stored in a cool, dry place once they are completely dessicated. Cooks can use the slices whole or grind them into amchur powder. As a general rule, the powder will be more intense and flavorful if it is used immediately, although some companies sell powdered amchur for convenience. The slices and the power both have a light tan color after drying.
The word comes from the Hindi aam, "mango," and choor, "powder." It is also sometimes seen labeled as aamchoor, or simply "mango powder." It is used in foods to add an acidic, slightly sour flavor, especially in mixed curries and garam masala. Amchur can also be used as a tenderizer, much like citrus juice, only a very small quantity stretches much further than citrus does.
The spice is especially prevalent in vegetarian cuisine. Many Indian vegetarian dishes have a tart, sour flavor, which can be accomplished with either amchur or tamarind. In places where tamarind is not readily available, cooks use amchur. The spice is also used to flavor pale dishes, where the dark color of tamarind would discolor the finished product. It is especially common in Northern India.
AS FEATURED ON:
AS FEATURED ON:








Chef