What Recipes can I Make with a Mango?
The mango is a tropical fruit that has found an international home in the 21st century. The large, dense, orange-fleshed treat is delicious on its own, but can also be included in many cooked recipes. The fruit has a sweet, mild flavor that can be successfully blended into a variety of dishes, both sweet and savory.
One of the best drinks a person can make with this fruit is the traditional Indian mango lassi. The fruit has been cultivated in India for more than 2,000 years, and it can turn this milkshake into a thick, flavorful cooler. To make one, a cook can combine plain yogurt, fruit chunks or slices, a little white sugar, and a few tablespoons (around an ounce or so, or about 30 ml) of ice water in a blender. After blending until smooth, the cook may wish to put the blender in the freezer for about ten minutes to thicken the mixture. Mangoes are delicious in any fruit smoothie, and add texture that can allow the maker to forgo fattening ice-cream.
To spice up southwestern cuisine, a cook can try making his own tangy mango and avocado salsa. The fruit can be peeled and cut into small chunks, and combined in a bowl with avocado, red onion, bell peppers, a finely chopped hot pepper, and cilantro. These ingredients can then be tossed with a splash of olive oil and vinegar and sprinkle with salt and a dash of sugar. This recipe is quick, easy, and sure to kick quesadillas or nachos up a level.
It can also be used as a twist on banana or zucchini bread. A favorite sweet bread batter can have the mashed pulp added to the mixture before baking. Bakers may also want to throw in raisins or currants, or add coconut for a truly tropical breakfast or snack bread. This bread is a great gift, especially if the cook adds a jar of pineapple jelly.
The wonderful creamy and thick texture of mangoes lends itself to making delicious chilled soups. These dishes are fantastic for hot summer suppers, and can be modified to make them sweet or spicy. For a low fat version, a cook can blend the peeled and sliced fruit with lemon juice, sugar and nonfat sour cream. It can be served over berries as a seasonal dessert, or spiced up with cinnamon, cardamom, and hot peppers and served in shot glasses as a fiery first course.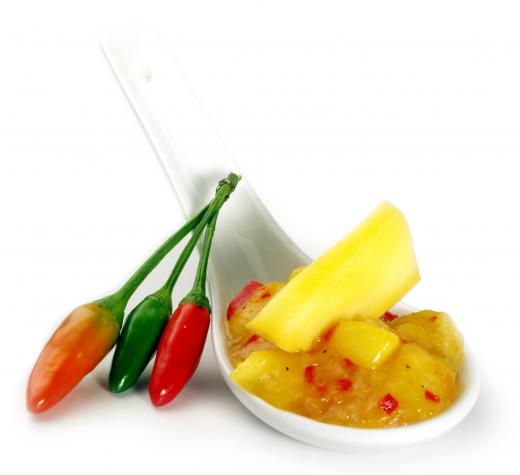 As these fruits have a long history in Indian cuisine, they have a special place in the world of Indian chutneys. To make one, a cook can chop several mangoes into chunks and saute them with onions, chili, bell peppers and ginger. To this mixture, he can add pineapple juice, vinegar, curry powder, nuts, and whatever spices he enjoys. If stored properly, this mixture can last for weeks and is a delicious condiment for sandwiches and an excellent topping for toast. Some cooks pack it into jam jars and give it as a gift to friends.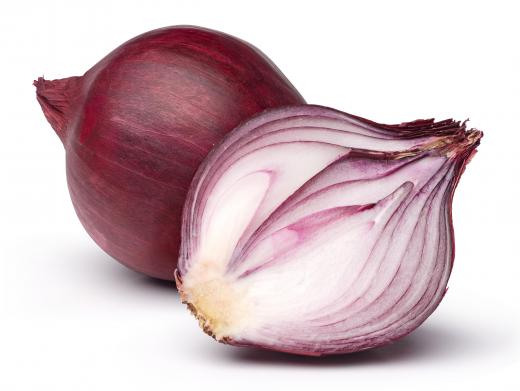 Mangoes are somewhat intimidating, but are worth the effort of understanding their taste and texture. Once a person falls in love with the fruit, he will see that it is easily adapted into a variety of dishes. They are great for dieters, as they are quite nutritious and make and excellent substitute for heavier desserts. Slices can be dipped in honey and sprinkled with chili flakes for a fantastic and easy dessert that will satisfy the strongest sugar craving.
AS FEATURED ON:
AS FEATURED ON:








By: volff

Slices of fresh mango.

By: Meliha Gojak

Mango is popular in chutneys.

Mango chutney.

Red onions can be combined with mangoes, peppers, and avocados to make mango salsa.

By: creative soul

Yogurt is part of a traditional mango milkshake.

By: oriori

Avocados can be combined with mangoes to make a salsa.

By: rgbdigital.co.uk

To make a mango smoothie, just add mango, yogurt, and ice to a blender.

By: Fanfo

Red bell peppers can be used when making a mango and avocado salsa.

By: Lilyana Vynogradova

Mango can be used when making lassi, a traditional drink from India.

By: JJAVA

Sweet and peppery mango is sometimes diced and added to salsa.