Manicotti is a large, tubular shaped pasta with a cooked diameter of about one inch (2.54 cm) and a length of about four inches (10.16 cm). Unlike other styles of pasta, manicotti is usually stuffed with various types of cheeses, meats, vegetables or seafood, and then baked in a cheese or tomato based sauce. Manicotti, like other pasta, is simply an Italian dough made with semolina flour, water, and sometimes eggs. The fresh dough is kneaded, worked, and then shaped into a wide variety of styles, including manicotti, spaghetti, macaroni, lasagna and ziti, to name only a few.
Although manicotti and other pastas are often thought to have originated in Italy, there are varying opinions about the first place pasta was created and eaten. The Chinese are known to have eaten noodles for centuries, and there is evidence of boiled noodles being prepared in fifth century Jerusalem. Yet, as Italy is the world's primary producer of durum wheat, the favorite wheat of traditional pasta makers, pasta has become almost synonymous with Italian cuisine.
Dried pasta, such as manicotti and many of the other styles, became a staple on board ships and among travelers and explorers in the sixteenth century. Pasta was easy to store, readily accessible, tasty and filling. Explorers influenced the preparation of pasta when they brought back tomatoes to Italy; then the Italian food we know and love today was born.
Manicotti is a favorite pasta dish of cooks and diners alike, not only for its traditional pasta flavor, but also because of its ease of preparation and the wide variety of preparation possibilities. Manicotti can be stuffed solely with ricotta cheese and a bit of salt and parsley, and then covered with plain tomato sauce for a mild, simple meal. For more ambitious cooks, the manicotti can be stuffed with a variety of cheeses, including ricotta, mozzarella, parmesan, and others.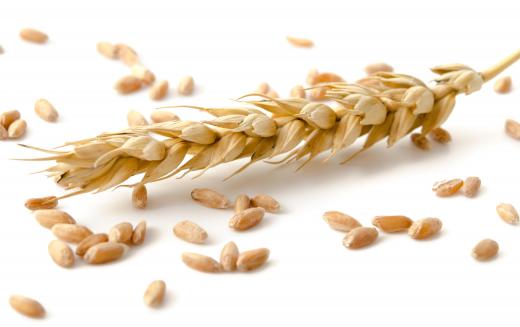 Most cooks don't stop at just cheese. Many stuff manicotti with sausages, peppers, tomatoes, shredded beef, crabmeat or a variety of vegetables. Cream sauces such as Alfredo sauce can be used to cover the stuffed manicotti for a completely different flavor. Whichever recipe is used, manicotti is easy and delicious, and sure to become a family favorite.
AS FEATURED ON:
AS FEATURED ON:








By: Bert Folsom

Manicotti is often stuffed or topped with Parmesan cheese.

By: Barbara Pheby

Parsley is often used to make manicotti.

By: womue

Manicotti made with durum wheat is often preferred.

By: Roberto Fasoli

Some chefs prefer to stuff manicotti with a simple mixture of seasoned ricotta cheese.

By: Profotokris

Vegetarian manicotti may be stuffed with tomatoes, onions, and other vegetables.