Marmalade is a type of fruit preserve which includes citrus rinds. Most people associate marmalade specifically with citrus fruits, although it can also be made with other fruits like strawberries. This preserve is sweet from fruit and added sugar, with a hint of tartness from the included rinds. It is popular as a spread for breads and as an ingredient in various foods from desserts to roasts. Many markets carry marmalade, especially in the United Kingdom, and it can also be made at home.
The origins of this preserve are quite ancient. The Greeks and Romans, for example, both realized that fruits which were high in pectin could be cooked with honey to form a jellylike preserve and stored in airtight containers for an extended period of time. These preserves literally preserved the fruit for future use. The modern word "marmalade" is believed to be derived from the Portuguese marmalada, a word for quince jam. When marmalade made the transition from quince to citrus is unknown, but by the 17th century, the British were making citrus marmalades, especially with Seville oranges from Spain.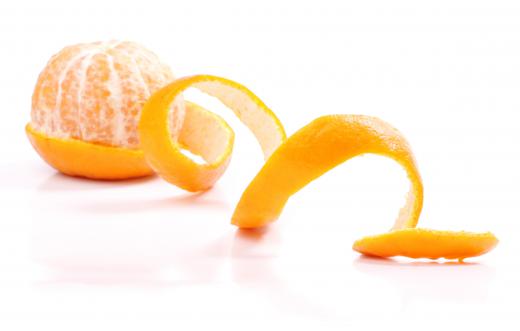 The ingredients in a true marmalade are simply the fruit, orange rind, sugar, and water. In some cases, pectin will be added to encourage the marmalade to set, when the fruit is not naturally high in it. The rinds are cooked first to soften them before the fruit and sugar are added, and then the preserve is ladled into sterilized jars, dunked in a boiling water bath, and allowed to rest for several days before use. It can keep for up to 18 months in cool, dry conditions, although most people prefer to use their marmalade within a year.
Typically, marmalade is clear in color, and it has a chunky texture from the pieces of included rind. It is almost like a jelly, although it has a slightly thicker spreading texture. In addition to being served on toast and scones, marmalade can be layered in cakes and mixed into other dishes. It is also used in marinades and sauces in some regions of the world.
Orange marmalade remains the quintessential marmalade, although it is perfectly acceptable to use lemons and other citrus fruits as well. Some people prefer to use candied orange peel, since it is sweeter, and others add ginger, cinnamon, cloves, or other spices to their marmalades. Strictly speaking, these preserves are no longer considered marmalade because of the added or substituted ingredients.
AS FEATURED ON:
AS FEATURED ON:








Orange peels are sometimes included in marmalade.

By: Anna Kucherova

It is thought that Marmalade was originally made from quince.

By: kmiragaya

A non-traditional marmalade may include tropical fruits like mamey.