What Is Mascarpone Cheesecake?
Mascarpone cheesecake is a version of cheesecake usually made with equal amounts of cream and mascarpone cheeses. When made this way, the desserts are generally thicker, creamier, and saltier than those made with cream cheese alone. To balance the saltiness, many cooks create a sweet crushed almond or vanilla crust, rather than using only graham cracker crumbs. Toppings for a mascarpone cheesecake sometimes include traditional fruits, but may also shift toward the salty and savory end of the flavor spectrum.
Most types of mascarpone cheese are thick and creamy, lending themselves to both sweet and savory applications. This kind of cheese is usually made from slightly soured, whole cream. Acid, like lemon juice, is added to the warmed cream and the mixture is stirred until curds form. The curds are then strained from the cream mixture and cooled until they blend together and become a creamy cheese. Mascarpone cheese is similar to cream cheese, but has a very slightly acidic, sour flavor.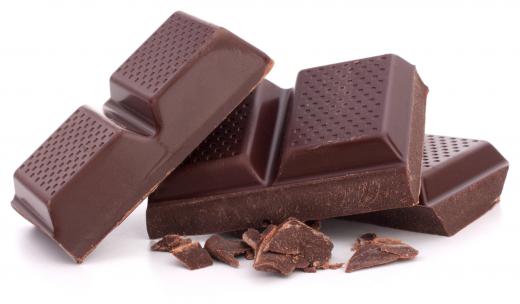 When making mascarpone cheesecake, cooks may either halve the amount of cream cheese in a traditional recipe, or double the entire recipe. For instance, if a recipe calls for 2 parts cream cheese, the cook may use 1 part each of cream cheese and mascarpone, or use 2 parts of each cheese and double the rest of the ingredients in the recipe as well. This may be a clever way to create extra desserts for a potluck or dinner party, especially for mascarpone lovers that need a dessert in a hurry.
One of the most popular ways to serve mascarpone cheesecake is just plain, without embellishment. Cooks often worry that adding other flavors will cover the taste of the cheese, making it taste like ordinary cheesecake. For this reason, the crust is usually embellished instead. Some like to add crushed or ground nuts, while others prefer to use cookies over graham crackers. Still others might use shaved chocolate bits or add cinnamon and ginger to the crust, giving the dessert a surprise ending.
People that simply must have a topping on cheesecake do have a few options. Mascarpone cheesecake typically benefits from a light drizzle of dark chocolate, lemon, orange, or raspberry syrup. The key here is to use just a little of the syrup so the cheesecake takes on just a hint of its flavor. Some may also reserve a little of the crust mixture to sprinkle on top of a mascarpone cheesecake. This can look especially elegant if the cook uses a cake stencil to create a design.
AS FEATURED ON:
AS FEATURED ON:








By: Natika

Shaved chocolate may be added to mascarpone cheesecake for enhanced flavor.

By: matka_Wariatka

A mascarpone cheesecake might incorporate fruits and nuts.