Meringue powder is a pasteurized egg product that is designed to replace beaten egg whites in recipes. The primary advantage of this powder is that, since it is pasteurized, it does not contain potential sources of foodborne illness, such as salmonella. This trait makes it ideal for recipes that call for uncooked egg whites. Many baking supply stores sell this product, and it can sometimes also be found at more general markets.
This powder is made by drying egg whites and mixing them with cornstarch and gum. When moistened, the cornstarch and gum help the meringue bind together, creating a passable substitute for fresh raw egg whites. Flavorings like vanilla are often added as well, partially to cut down on the slightly starchy taste.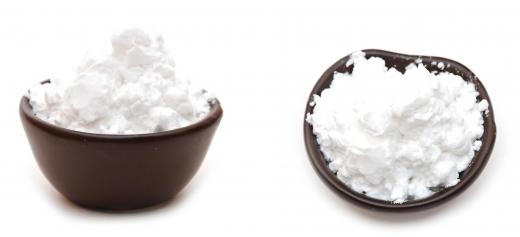 As long as meringue powder is kept in a cool dry place, it has a fairly long shelf life. To use it, cooks simply measure out the desired amount and rehydrate it. Many recipes that call for beaten egg whites have specific measurements for the powder, although these recipes may require some tweaking to come out just right, as different brands rehydrate differently.
One of the most common uses for this product is in royal icing, a glaze that is sometimes used for cookies. It can also potentially be used in egg nog and in other recipes that call for beaten egg whites, although it may depend on the recipe. The powder cannot be used as a replacement for whole eggs in recipes, merely for beaten egg whites, and despite the name, this powder does not actually make very good meringue.
Cooks may want to experiment with meringue powder a bit before committing to it because it can behave strangely in some recipes. If a cook knows that he is going to be making something like cookies for people with compromised immune systems, he should plan on mixing up a couple of batches of icing before finding one that works perfectly. Cooks should also be prepared to adjust the levels of spicing in the recipe to help cover up the flavor of the powder, which can sometimes be quite strong.
AS FEATURED ON:
AS FEATURED ON:








By: vadim yerofeyev

Meringue powder.

By: tuja66

An egg, which is used in making meringue powder.

By: uckyo

Meringue powder can be used in egg nog.