What is Multigrain Cereal?
Multigrain cereal is uncooked breakfast cereal made from multiple grains such as corn, rice, oats, barley, flax, cracked rye, millet and many others. Multigrain cereals are often labeled by the number of different grains they contain such as 7 grain cereal or 10 grain cereal. The grains in these cereals may be whole or flaked.
Granola is considered different from multigrain cereal as its served cold, while multigrain cereals are usually served hot. Granola is often coated with oil and sugar while this type of cereal is not unless it's sold in an instant, individual serving size package. Cane juice and other forms of sugar may sweeten instant multigrain cereals, although some are also fortified with extra vitamins and nutrients.
Some varieties of cereal bars are made with this type of food. The outer crust is usually sweetened multigrain cereal, with sweetened fruit filling inside. Cereal bars can usually be made at home with less sugar than store-bought products. Cereal with some brown sugar, cinnamon and butter can be used to make a crumb topping for a dessert such as apple crisp that has fruit in the bottom of the pan and a crunchy oatmeal-based cereal mix on top.
Chopped apples can be added to the cooking multigrain cereal. You can also add sliced banana to the cereal after it's cooked. Nuts such as walnuts or almonds also make a great addition to cooked cereal. If you're trying to cut down on sugar, try adding a little vanilla and some cinnamon to your multigrain cereal before adding any sugar at all and you may not even want any more sweeteners. Dried fruit such as raisins or apricots can also make the hot cereal seem sweeter.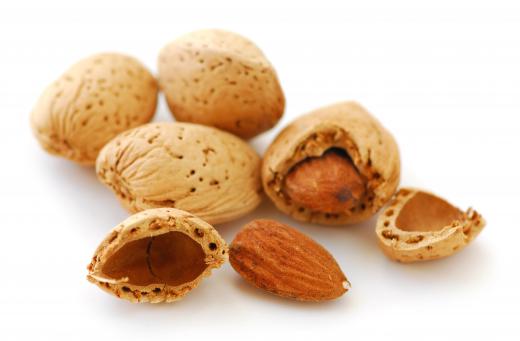 Multigrain cereal can be enjoyed with milk or soy milk and some people like it with yogurt. It can be purchased in grocery stores or health food shops. You can also buy various grains in bulk and make your own. Organic versions are also available in stores or in bulk.
AS FEATURED ON:
AS FEATURED ON:








Barley is often used in multigrain cereal.

Dried dates, which are often included in multigrain cereals.

By: Elenathewise

Almonds, which are often included in multigrain cereal.

By: Nikolai Sorokin

Bananas can make a good addition to multigrain cereal.

By: dinostock

Walnuts are high in protein, fiber, and healthy fats, making them an excellent addition to multigrain cereal.

By: Volodymyr Shevchuk

Dried apricots add sweetness to multigrain cereal.

By: Tatyana Gladskih

Multigrain cereal is often enjoyed with milk or soy milk, and can be found in most grocery and health food stores.