Not only is the word quiche fun to say, but it's a deliciously versatile and easy-to-create breakfast or light lunch. The traditional quiche requires cheese and eggs, but the wise cook knows that a truly magnificent quiche needs onions. Onion quiche can be created using diced red, white, or yellow onions, leeks, or scallions.
Onion quiche begins with the filling. Several beaten eggs, shredded cheese, and a splash of heavy cream form the foundation. The onions can be sautéed with or without garlic and mushrooms. Layering the onions or onion mixture onto an unbaked pie shell and then pouring the egg and cheese combination is all there is to it.
Different cheeses give an onion quiche a range of personalities. Gruyere is the traditional favorite. It lends a sweet, creamy flavor and texture to the pie. The older the cheese, the more pronounced the taste will be.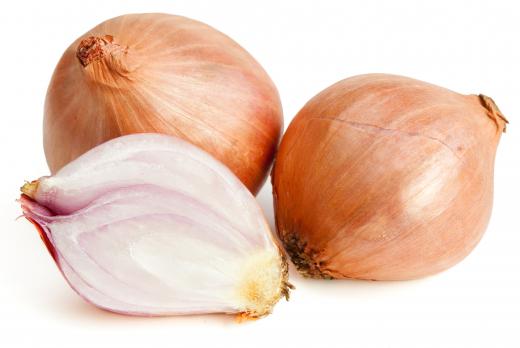 Some home cooks substitute Swiss cheese. It, too, melts into a creamy dream of yumminess but with a sharper edge to the flavor. Although traditionalists may protest, almost any kind of cheese can be used in an onion quiche from feta to cottage cheese.
Onion lovers know that each kind of onion offers its own variation on an oniony theme. Sweet Vidalia onions that are caramelized before being layered into the shell make a sweet onion pie. Sautéing diced red onions ratchets up the flavor, while white onions add a mellow note.
Onion quiche aficionados know that the pie need not be limited to just one onion variety. Leeks and red onions offer a brave, strong combination, while scallions and sweet onions make a mellower pie. Shallots, the most delicately flavored onion, combine nicely with Walla Walla or another spring type.
No one will argue that premade pie shells from the dairy department or grocery store freezer are as good as homemade, but cooks in a hurry find they make an acceptable quiche. In fact, because most kitchens keep eggs and cheese and onions on hand, having frozen pie dough ready to go means it takes only a few minutes to toss together an onion quiche. From there, the cook can add other veggies, such as sautéed mushrooms or sweet red pepper if they're available.
Cooks looking to cut calories, or those who want to create a gluten-free quiche, can whip together a crustless quiche as easily as a crusted one. Not only are quiches easy to create, but they freeze well. Some cooks make a batch of several quiches at one time then cut them into wedges and freeze them individually in small freezer bags for a quick and easy meal for one or two.
AS FEATURED ON:
AS FEATURED ON:








Shallots are often included in onion quiche.

Thick slice of Gruyere cheese, which is often included in onion quiche.

By: Magdalena Gieniusz

Sweet red peppers, which can be used to make onion quiche.

By: nata777_7

Cottage cheese and egg can be used in onion quiche.

By: bergamont

Onion quiche made with red onions may be more flavorful.

By: Anticiclo

A vegetarian quiche made with onions, red peppers, and mushrooms is a hearty, nutritious breakfast or lunch.