Marinara sauce is a popular, robust Italian sauce made with tomatoes, onions, and herbs. This red sauce tends to be a bit spicier than other standard tomato sauces, with large amounts of garlic, oregano, basil, and even chili pepper. One reason for its popularity is that it is generally quick and easy to prepare. The sauce's simplicity also makes it a common, versatile base for many Italian dishes.
Although marinara has traditionally been used to naturally highlight the mild taste of pasta such as linguini or ziti, it is also a popular dipping sauce for finger foods like fried mozzarella cheese sticks and calzones. It can also be used to add a little zest to meat dishes such as chicken, veal parmigiano, pork steaks, and grilled seafood. Cooks can even spice up a burger or a chicken filet sandwich by using marinara in place of the more traditional mustard or mayonnaise.
Marinara sauce originated with sailors in Naples in the 16th century, after the Spaniards introduced the tomato to their neighboring countries. The word marinara is derived from marinaro, which is Italian for "seafaring." Many people mistakenly believe this sauce includes some type of fish or seafood because of the origins of the name. Loosely translated, however, it means "the sauce of the sailors."
One theory for the origin of the name is that it was a meatless sauce used extensively on sailing ships before modern refrigeration techniques were invented. The lack of meat and the sheer simplicity of making this sauce were particularly appealing to the cooks on board sailing ships, because the high acid content of the tomatoes and the absence of any type of meat fat resulted in a sauce that would not easily spoil.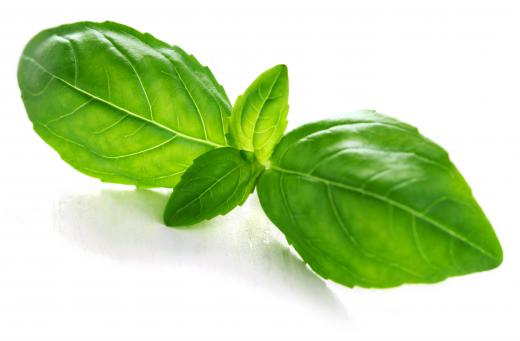 Another theory on the origins of the sauce is that it was what sailors' wives made. The simple recipe made it easy to cook quickly once the ships were spotted offshore. That way, a sailor's wife could have a hot meal ready as soon as her husband returned home.
Even though the sauce has a reputation for being easy to make at home, there are currently several hundred different types offered on the market. Perhaps the increased popularity of marinara is due to recent research that revealed that cooked tomatoes are rich with lycopene. This is an antioxidant that may help reduce the risk of certain types of cancer.
AS FEATURED ON:
AS FEATURED ON:








By: juliedeshaies

A jar of marinara sauce.

By: Cheryl Davis

Marinara on linguini.

By: Barbara Pheby

Basil is a common ingredient in marinara sauce.

By: Tim UR

Marinara sauce generally has quite a bit of garlic.

By: volff

Tomatoes are one of the key ingredients in marinara sauce.

By: Giuseppe Porzani

Some recipes call for chili peppers.

By: Taiga

Oregano is a basic ingredient of marinara sauce.

By: Marzia Giacobbe

Italian marinara sauce is sometimes more robust and spicier than other red sauces.

By: hitdelight

Marinara and other tomato sauces are rich in lycopene, a powerful antioxidant.

By: chas53

Marinara is used as a dipping sauce for finger foods like pepperoni rolls.