Pineapple rum is rum flavored with pineapple. Some rum distillers sell rum that contains pineapple flavor, typically obtained through the use of concentrated flavors. Aficionados of tropical drinks or Tiki culture often craft their own pineapple rum by simply mixing fresh or canned pineapple juice together with run. Both varieties of pineapple-flavored rum are used frequently in cocktails.
Rum, the alcoholic component of pineapple rum, is an alcoholic beverage produced from sugarcane. All distilled spirits make use of a fermentation process in which bacteria transform sugars into alcohol. In the case of rum, this is a very simple process as the sugar in sugar cane and the molasses produced from sugarcane is readily available for bacterial conversion.
The distillation of rum was originally a way to make use of waste products from the production of table sugar. Molasses, a sweetener and flavoring agent, was not a valuable commodity in and of itself. It was, therefore, quite inexpensive, and made an excellent feed stock for the production of hard liquor which was much more marketable. Today rum has become popular enough that many producers make rum from sugar rather than molasses with the production of rum as their primary objective.
The original marriage of pineapple and rum may well have taken place in Hawaii rather than in the Caribbean homeland of rum or near the South American region to which pineapples are native. The pineapple emerged as a major agricultural product of Hawaii just after 1900. Sugar cane and rum production were already well-established on the islands. Pineapple cultivation spread rapidly though the Caribbean at that time, however, and early mixing of these two flavors into pineapple rum certainly occurred there as well.
Pineapple and rum have long been used together in tropical drinks. The standard recipe for the Bahama Mama uses both of these ingredients. Other drinks, such as the hurricane, use a mixture of the two together with many other ingredients. Perhaps the most famous rum and pineapple cocktail of all time is the pi&ntildea colada. This drink, developed in Cuba before 1920, mixes pineapple, rum, coconut cream or syrup, and ice, and has come to be associated with beach and Tiki culture the world over.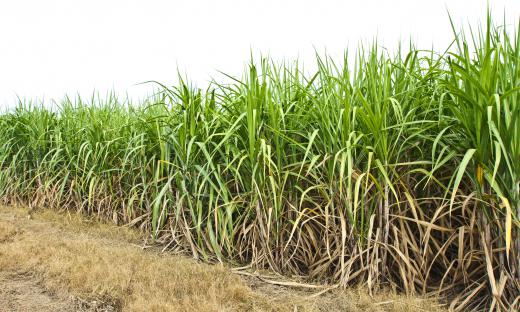 Commercially-produced pineapple rum capitalizes on the popularity of these and other tropical drinks. Many makers of rum have released flavored rum products that include either pineapple or pineapple and some other secondary flavor. These rums can be used as the basis of new cocktails or incorporated into many traditional cocktail recipes with an adjustment to account for the smaller volume of liquid.
AS FEATURED ON:
AS FEATURED ON:








By: HandmadePictures

Canned pineapple can be used to make pineapple rum.

By: Stephen Finn

The piña colada was developed in Cuba before 1920.

By: Nitr

Pineapple rum is frequently used in tropical drinks.

By: narinbg

Rum is made from sugar cane.