Porilainen is a popular dish served in Finland, which is in northeastern Europe. While the term porilainen cannot be directly translated into English, an approximate translation would be sausage burger. This dish looks like an American hamburger or hot dog, but is traditionally made from pork sausage rather than beef.
While little is known about the origins of this meal, many believe that it gets its name from the city of Pori. Others claim it was named after the hampurilainen, or hamburger. In the Finnish language, these two terms sound very much alike, leading some to speculate that this sausage burger was simply named after the similar-looking hamburger.
Some people in Finland trace the history of the porilainen back to the mid 20th century, when university students were eager to find a hearty and filling dish they could prepare and consume fairly quickly. Students and local restaurateurs began to place thick slices of grilled sausage between two pieces of bread, creating a tasty and portable meal. This recipe also allowed students to grill the sausage in their dorms or student housing on the small grills they used for cooking.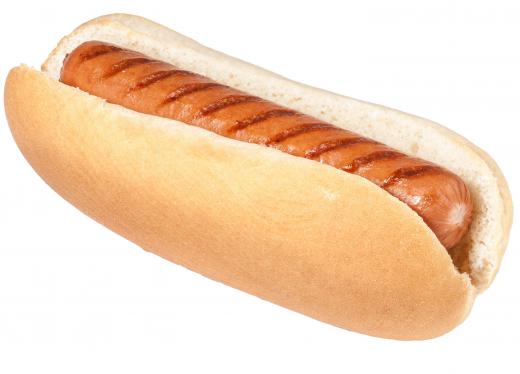 Today, anyone can purchase porilainen from Finland's many street vendors. This meal is also popular at fairs and festivals, and makes a quick and convenient meal or snack for anyone on the go. It contains only basic ingredients, and is easy to make regardless of cooking skill.
The standard porilainen consists of a slice of sausage measuring 0.5 inch (around 1 cm) in thickness. This sausage generally comes from pre-packaged pork sausages, but bratwurst may also be used as a substitute. Grilled onion or spiced sausage is also popular in this dish.
Once the sausage has been grilled, it's placed between two slices of bread to make a sandwich. This dish is nearly also served on white bread, even though sour rye and malt breads are much more popular in other areas of Finnish cuisine. The porilainen is always served on slices of bread, and never on the buns or rolls use for hamburgers. It may be served on two slices of bread from the same loaf, or two different varieties for flavor and texture.
AS FEATURED ON:
AS FEATURED ON:








By: SunnyS

Some varieties of porilainen feature bratwursts as the type of sausage.

By: Springfield Gallery

The consistency of porilainen is very similar to the American hot dog.