Quinoa flour is a flour produced from quinoa, a grain-like seed native to the Andes of South America. Quinoa is a somewhat unique grain, in that it has a very high protein content which made it a critical part of the Andean diet for centuries. Widespread exposure to the grain has led the rest of the world to come up with a number of quinoa-derived products, including cereal and flour.
This flour can be made from milled or unmilled seeds. Unmilled seeds produce a more coarse, nutritious flour, while milled ones are used to make a much smoother flour. In either case, the flour is typically a creamy yellow to ivory color. Quinoa is gluten-free, so the flour can be safely used in gluten-free baking projects for people with gluten intolerance. Bakers should be careful, however, as it may be processed in a facility that contains gluten, in which case it can become contaminated.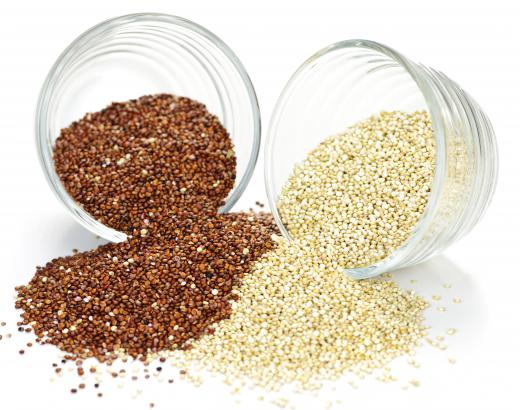 The remarkably high protein content of quinoa grains holds true in quinoa flour, with the protein content averaging around 17%. This flour is also very high in dietary fiber. The high protein content can interfere with some baking, so many bakers recommend mixing quinoa with other flours, rather than using it alone. Plain quinoa flour can make dishes seem gluey, heavy, or sticky, a result which is generally viewed as undesirable.
The flavor of the flour is very mild, with a hint of nuttiness. It is often combined with tapioca, potato starch, and sorghum to create a gluten-free baking mix. Many gluten-free bakers experiment with bulk flours to arrive at a blend which works for them. Quinoa flour may also be used as a thickener in sauces, soups, and other dishes, especially in cases where additional protein might be viewed as beneficial.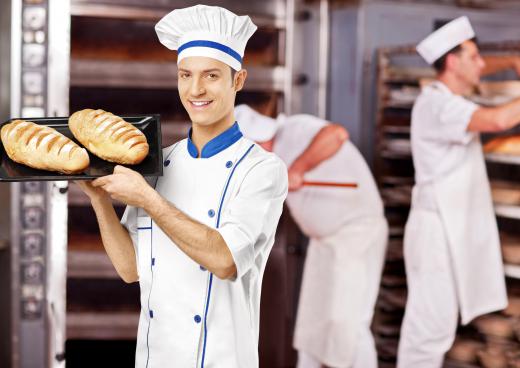 This flour can be quite expensive in the store, and it can go rancid easily. It should ideally be stored in the fridge or freezer, rather than at room temperature, and it should not be exposed to heat, bright light, or moisture until it is ready for use. To save money on commercially milled flour, cooks with food processors or grain mills can also make their own, using quinoa grains purchased at the store. One advantage to homemade flour is that cooks can make exactly as much as they need, and they can grind it with other grains and flours for a uniform mixture and texture.
AS FEATURED ON:
AS FEATURED ON:








By: Elenathewise

Quinoa can be used to make a flour high in protein.

By: Iryna Volina

Quinoa is indigenous to South America, where it remains a dietary staple.

By: Ljupco Smokovski

Quinoa flour can be used in baked goods.

By: Photofollies

Quinoa is native to the Andes.

By: sarahdoow

Quinoa flour is often combined with tapioca, potato starch, and sorghum to create a gluten-free baking mix for cookies and other treats.

By: Xavier MARCHANT

Non-wheat pastas made from quinoa are a good alternative for those who require a gluten-free diet.