Rillette is a seasoned meat spread traditionally made with pork, although a wide variety of other meats can be used, as well as seafood. It is often called the "poor man's pate," since it has the creamy, smooth consistency of pate, but it is far less costly. This spread is also used much like pate on things like crackers and bread as an appetizer. Some specialty butchers and delis make rillette for sale, and it is also possible to make this dish at home.
To make rillette, or rillettes as it is also known, cooks start by cubing a cut of meat, salting it, and adding it to a cooking pot with some fat and seasonings. Some cooks like to make rillette on the stovetop, while others prefer to bake it. In either case, the meat is allowed to cook for four to six hours, until it is falling apart. At this stage, the meat is drained, shredded, spiced, and compressed. Compression is usually accomplished by packing the meat into a ramekin or small bowl, and then weighting it.
Once the meat has compressed for several hours, it is covered in a thin layer of fat and refrigerated for three days. This resting period allows the flavors in the rillette to more fully mingle and develop, enhancing the spicy taste of the dish while also allowing the meat to soften a little more. Once the meat has rested, it will keep for approximately 10 days under refrigeration.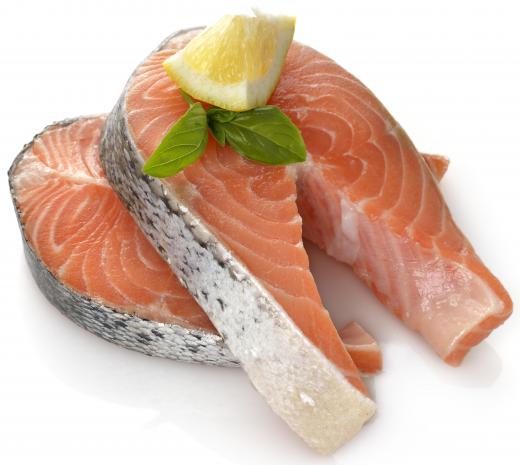 Rillette can be served straight out of the dish it is cured in, or it may be unmolded and presented on a plate. In some regions of France, rillette is molded into fanciful shapes like pyramids and garnished with cured meats or vegetables to create a centerpiece. As a general rule, rillette is served chilled, and spread lightly across crackers and breads. This meat paste is quite rich, so a little bit tends to go a long way.
Goose, duck, chicken, and game birds are all popular choices for rillette, along with the classic pork. Seafood rillette made with salmon, tuna, anchovies, and other fishes is also sometimes available, and the meat may be blended with bread crumbs and vegetable fillers to make the dish a little less intense. Vegetarians can make their own version of rillette with slow-cooked vegetables browned in olive oil and heavily spiced.
AS FEATURED ON:
AS FEATURED ON:








By: Fanfo

Flavorful duck and other game birds are often used to make rillettes.

By: SunnyS

Salmon can be used to make a rillette.

By: illustrez-vous

Rillette has the same smooth consistency as pate.