When you read the word pâté, you may automatically assume that the food in question is pâté de foie gras, a dish made use finely chopped or ground goose or duck liver. Foie gras is certainly a popular form of pâté, but it is not the only form. You can use a variety of meats, and not just liver to make pâtés, translated roughly as paste, and some recipes are even completely vegetarian.
If you look on the Internet, recipes abound and include using meats like pork, ground beef, chicken and sausages. Various parts of an animal may be used, so you can pick those flavors in meat you best prefer. Vegetarian pâtés can be finely ground beans, mushrooms, or others vegetables that adapt to a pasty grind, and when seasoned, they can provide wonderful flavor.
Typically, pâté can be served alone in two different ways. A loaf of the finely chopped and dense ingredients can be surrounded by puff or pie pastry and baked to a crusty brown. This is called pâté en croute. You can also serve en croute variants in pie dishes and the loaf or pie is usually cut into loaf slices or pie wedges for consumption.
Another method of preparation is to mold the pasted meat into a loaf, and then in some cases surround the loaf with gelatin, aspic, or meat fat. This is typically called a terrine, and may be served in slices along with bread so that you can spread the mixture. Alternately, terrines might be used in slices to make sandwiches. A similar concept is the German based liverwurst, which is sold in tubes and widely available in many countries.
Flavor additions to pâtés numerous spices, herbs, wine, and sometimes a few vegetables. When served as a spreadable food, ingredients should be able to be grinded to a pasty form, sometimes with the addition of liquids to achieve spreadability. For example, many forms of American meatloaf might resemble a terrine, but they are too hard to spread, though excellent as served sliced for sandwiches, or served hot.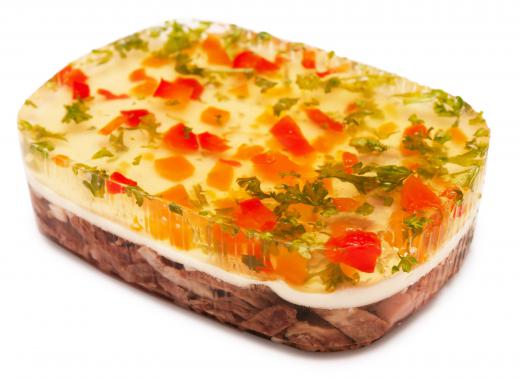 Another method of serving pâté is using it to stuff other cuts of meat. In this form it's frequently called forcemeat, since much of it is stuffed into meats like chicken, goose, or turkey, and certain forms of fish. Forcemeat does not have to be "stuffing" per se, but can instead simply refer to pâté when it is served in a variety of other forms.
AS FEATURED ON:
AS FEATURED ON:








By: Chris leachman

Finely ground mushrooms can be used to make a vegetarian pate.

By: illustrez-vous

A loaf of pate is called a terrine.

By: FirstBlood

Pâté is sometimes served surrounded by aspic.