Sabich is a popular Israeli street food made up of pita, a type of flatbread, containing hard boiled egg, fried eggplant, Israeli salad and a variety of accompaniments, depending on where it is bought and who makes it. It is thought to have originated in Iraq and was brought to Israel by the Jews who fled Iraq in the 1940s and 1950s. They favored it as a breakfast dish on Shabbat, the Jewish Sabbath. Traditionally it is served with a pickled mango relish called amba.
Shabbat runs from sunset on a Friday evening to sunset on a Saturday evening. It is a holy time and during this period cooking is not allowed so cold meats and pre-cooked foods are eaten. This is one of the reasons the sabich came into being, as all the ingredients are pre-cooked or raw. Although traditionally eaten only for Shabbat breakfast, sabich it is now eaten every day and has become one of Israel's most popular fast foods.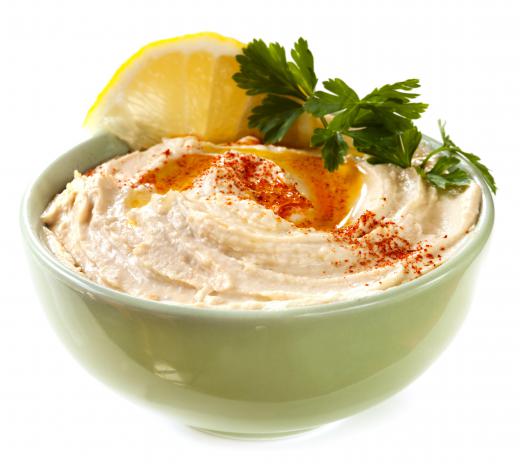 The eggplant is fried until soft and browned and can be kept refrigerated, as can the hard-boiled eggs. Israeli salad usually consists of tomatoes, cucumber and some lemon juice. Other ingredients that may be added include hummus, tahini, onion, potato and parsley. Hummus is a spread made of chickpeas, olive oil and lemon juice and tahini is made from ground up sesame seeds.
Different vendors have added different ingredients to make their sabich different to the others. The egg may be left out to create a vegan option. Whichever one is eaten, the sabich provides a healthy and nutritious version of fast food to anyone eating them.
Amba, the pickled mango relish most often served in a sabich, originated in India, but is now popular in both Iraq and Israel. It is made from chunky bits of mango and vinegar. Mustard, chili and other spices are added giving it a hot and tangy flavor which adds taste to the fried eggplant and hard-boiled eggs.
There are various stories as to where the name sabich originated. Some believe it was named after the first Iraqi vendor to sell the dish in Israel. Others believe the name is a combination of the Hebrew words for salad, Salat; egg plant, or Baytzim; and egg, Chatizilim. Whatever the origin of the word, the sabich has become a popular addition to Israeli street food, eaten throughout the country.
AS FEATURED ON:
AS FEATURED ON:








Hummus is often included in sabich.

Pita bread, one of the ingredients in sabich.

By: Igor Dutina

Hard boiled eggs, which are often served with sabich.

By: vitovt

Some believe that Sabitch is derived from a combination of the Hebrew words for salad, Salat; egg plant, or Baytzim and egg, Chatizilim.