Sangak is a type of Iranian bread, a flat bread baked in a unique way. The name means "little stones" and the full name of the bread, "nan-e sangak" translates to "little stone bread." Sangak is made of very thin sheets of yeast dough which are placed on the bottom of an oven or a baking sheet covered with small river rocks. Baking on the uneven surface of the stones gives the sheets of bread a variable thickness and color. Some pieces commonly have small charred areas or holes.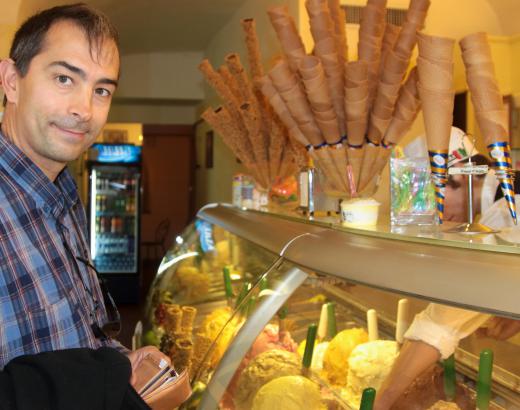 Traditional sangak has a slightly sour flavor and a distinctive spongy texture. It can be made with sesame seeds or poppy seeds sprinkled on the surface, but is often sold plain. Iran bakeries that offer sangak usually bake it and sell it hot two or three times a day.
Gas fired brick ovens are traditionally used to bake the bread. The baking surface is covered with clean, smooth, pebble sized rocks. In more modern bakeries, ovens used for pizza can be used for sangak. Some bakeries use conveyor belts with a textured surface which mimics the effects of the rocks on the baking bread. For home baking some use clean pebbles soaked in oil and spread on top of a baking sheet.
Recipes for homemade sangak usually call for a mixture of whole wheat and white flour. The dough is considered very simple, containing just flour, salt water and yeast. Authentic recipes call for letting the dough develop overnight, which gives it a slight sourdough flavor. The dough is rolled out in oval or rectangular pieces about 1/2 inch (1.27 cm) thick.
The bread is baked in a very hot oven: 450 or 500 degrees F (about 230 to 260 C.) Although it does not reproduce all the effects of baking on rocks, a pizza stone can offer a good baking surface. It takes only a few minutes to bake the bread. The texture is enhanced by pulling the baking dough out of the oven briefly to press it down on the baking surface with a metal spatula, returning it to the oven for a minute or two, then flipping it over to finish the baking process.
Sangak is usually served while warm. It is also typically served with feta cheese, thick Middle-Eastern style yogurt, and sour cherry or other types of jam. It also can make a good accompaniment for kebab. The bread freezes well and can be easily reheated.


By: Anna Kucherova

Sangak is usually served with feta cheese, yogurt, and sour cherry jam.

By: Eléonore H

Iranian bakeries that offer sangak usually bake it and sell it hot two or three times a day.