Sheermal, or shirmal, is a kind of flatbread, or "naan" usually found in Middle Eastern countries such as Iran and Pakistan. It is also part of Indian cuisine, particularly in the Northern region, as the people there are in close proximity to Pakistan and Iran. This flatbread consists primarily of "maida" or all-purpose flour mixed with yeast for leavening. The preparation for sheermal is similar to that of an Indian flatbread called "roti," but what makes the latter distinct is its inclusion of milk in the dough and the evident saffron flavor. Shirmal is best served warm, along with sticks of kebabs, meat dishes, or soups.
The literal meaning of the word sheermal is "milk bread," as it is the milk that gives the bread some sweetness. It is believed that this flatbread owed its roots to Persia, the modern-day Iran, during the time when Persians traveled to Pakistan and India. It was probably invented in a city called Lucknow, located in north India by a man named Muhammadan. Not long after, the bread became a staple in Lucknow and was soon introduced to royalties during banquets and festivals. Shirmal was served along with meats, curry sauces, and even with desserts, as the bread was ideal for picking up the traces of sauces and meat on the plate.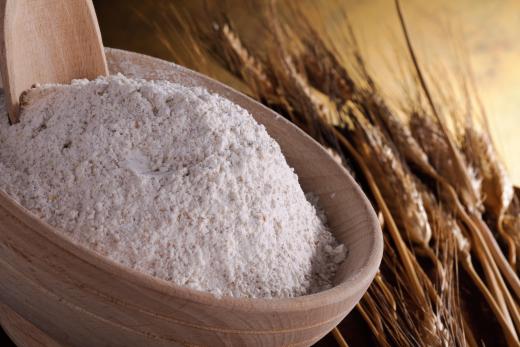 Sheermal can have a very rich texture, as the water usually used for bread dough is completely replaced with milk. The saffron is initially soaked in the milk to lend its flavor to the bread, before the milk is incorporated into the flour. Other sheermal ingredients include eggs, sugar, and some fat, usually butter, making the bread so rich that it is sometimes nicknamed "doodh ka khazana," translated as "treasury of milk." For added sweetness, dried fruits and cardamom can be added. After all the ingredients are mixed and kneaded together, the dough is left to sit for a while to rise, before it's rolled thinly for baking.
The traditional method of cooking the shirmal is baking the bread in a tandoor, a cement and clay oven that is vertically hollowed, like a tall urn. The fire is placed in the middle and the flatbread is cooked by sticking it on the heated sides of the oven without touching the fire. The sheermal can also be cooked in a tawa, a flat frying pan usually used for cooking roti, only the tawa should be covered and heated on both sides to properly cook the shirmal. If there is no tandoor or tawa available, the contemporary oven can also be used to bake the sheermal.
AS FEATURED ON:
AS FEATURED ON:








By: Studio Gi

Sheermal is made using maida flour, an inexpensive flour made from wheat.

By: Andrey Kuzmin

Milk is added to sheermal to give it a mild sweetness.