What is Sugar Cane Syrup?
Sugar cane syrup is a thick syrup that is created by evaporating the juice extracted from sections of sugar cane. The preparation of this type of syrup usually involves boiling the juice for several hours, and making sure to skim the surface of the juice throughout the process. When prepared properly, this approach yields a thick syrup that is extremely sweet, making it ideal for use in both home cooking and the preparation of commercial foods.
Many different types of syrup are created using a boiling process. What is different with sugar cane syrup is the duration of the boiling and the need to constantly skim the surface as the juice boils. This is because all the impurities in the juice will bubble to the surface as the boiling takes place. Skimming the impurities off the top will yield a product with a smoother texture and enhance the taste.
As the cane juice boils, there are a few additives that can help enhance the taste of the prepared syrup. A small amount of baking soda will help expedite the rising of impurities to the top, making it easier to remove. At the same time, the addition of a small amount of lemon juice helps to minimize any salty taste that might remain in the finished product. Adding the lemon juice is especially important when using sugar cane that is grown with the use of ammonia nitrate, since the salty flavor is likely to be higher than with sugar cane cultivated using other elements.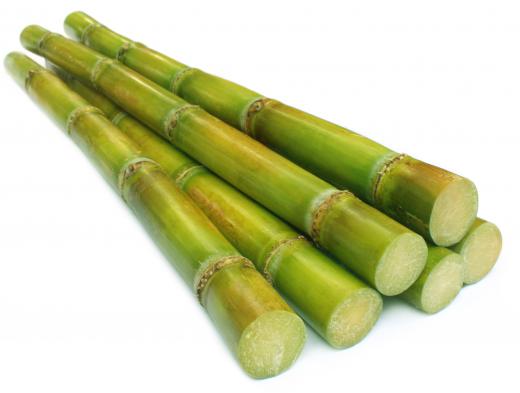 As the sugar cane syrup begins to thicken, it will also darken in color. Assuming that the skimming was done properly, the liquid will also have a clear quality. As the thickening begins to take place, the amount of heat can be reduced gradually, allowing the mixture to continue to cool and thicken to the desired texture.
Once prepared, commercially produced syrup is infused with preservatives and packaged for sale. It can be used in cooking as well as in the creation of flavored syrups to pour over ice cream and other dessert options. Sugar cane syrup is also used in the commercial preparation of chocolate candies and other sweets. It is often the base ingredient for the creation of a wide range of flavored syrups that are served with pancakes or to coat link sausages for a slight taste of sweetness.
Along with commercial products, it is also possible to prepare small batches of the syrup at home. Generally, it will keep well in a glass container and can be stored in the refrigerator in between uses.
AS FEATURED ON:
AS FEATURED ON:








By: bst2012

Skimming the surface is important when boiling the sugar cane syrup.

Stalks of sugar cane.

By: narinbg

Sugar cane growns in tropical and sub-tropical regions around the world.

By: Natika

Sugar cane syrup is used in the preparation of commercial chocolate.