Sugar dough can be bought at the grocery store or easily made at home from scratch with basic pantry items. Eggs, enriched flour, baking powder and butter form the simple base of sugar dough — sweetened to taste, of course, by the namesake sugar. Many shape the final products into holiday-themed cookies. Others prefer to drop them in messy clumps on the baking sheet and devour them without decoration as soon as they cool.
When mixed and baked with precision, sugar cookies will have a distinctive buttery taste. The ratio of the ingredients is key. For every 2.5 cups (591 ml) of flour, about 0.33 cup (158 mg) of sugar is required, along with two egg yolks, 0.5 tsp (2.5 ml) of baking powder and 1 cup (about 250 mg) of butter. Many cooks also add to this mix about 1 tsp (5 ml) each of vanilla, cinnamon, almond extract and salt.
The flour and baking powder are blended first. Then the butter and sugar are whisked in until the mixture is fully whipped and frothy. Egg yolks and flavorings go into the butter last. The final step is to slowly beat the flour into the buttery yolks — with a blender or by hand — until the dough is malleable.
Some cooks heap the dough on greased cookie sheets and simply bake them at about 350°F (about 175°C) for no more than 10 minutes, perhaps with some cane sugar sprinkled on the top. Many others, however, roll the sugar dough out with a roller over a floured counter, into pencil-thin sheets. Then, cookie cutters are used to give the cookies unique shapes like stars or holiday bells. Some also rotate their cookie sheets about halfway through baking to give the final cookies textural uniformity.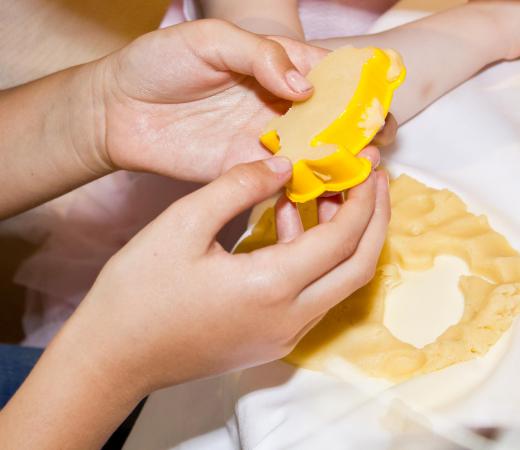 One variation for traditional sugar dough substitutes cream cheese for the flour, giving cut-out sugar cookies more definitive shape and a distinctively creamy taste. With the original recipe, chefs avoid the temptation of incorporating the butter directly into the sugar and yolks. The butter needs to be adequately softened to impart the right consistency and flavor. Different citrus zests from orange or lemon peels can impart sugar dough with a twist, and many decorate the tops with icing or other edible decorations to add visual interest. Anything more than this, however, is considered by many to be overkill, ruining the sugar cookie's expected simplicity.
AS FEATURED ON:
AS FEATURED ON:








By: andrewsproule

Egg yolks are an essential component of sugar dough.

By: 0635925410

Sugar dough can be cut into various shapes using cookie cutters.