What is the Difference Between a Cream Puff and an Eclair?
Differences between a cream puff and an éclair do exist, and they are not limited to the two pastries having different shapes. Shape is, however, the most distinguishing factor between a cream puff and an éclair. Cream puffs tend to be round in shape, and are often sliced open, so that the scrambled egg-like inner portions of the choux pastry can be scraped out, leaving more room for whipping cream. Éclairs are usually an elongated oval shaped pastry, and instead of being sliced in half, have whipped cream (or other fillings) piped in through a small hole in the pastry.
Other differences between a cream puff and an éclair are historical in nature. References to the cream puff date back to the late 16th century. The éclair could be called a descendent of the cream puff and according to food historians wasn't made with any regularity until about the late 18th century, or possibly even later.
In the standard cream puff, the filling is almost always whipping cream, which may mark an essential difference between a cream puff and an éclair. Cream puffs may have no more topping than a light dusting of powdered sugar. The éclair conversely may be filled with either whipped cream or a variety of custards, or custards mixed with cream. The usual éclair is also topped with melted chocolate or ganache. Varieties exist with both. A cream puff and an éclair may be filled with custard, or either could have different flavors of custard, a mix of raspberry jam and whipped cream, or any other delicious filling you can invent.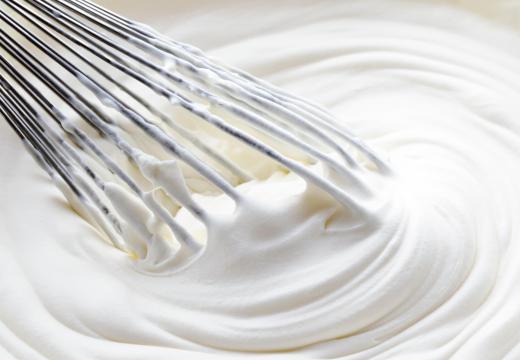 Though a cream puff and an éclair are most often made with choux pastry, there are certain bar shaped donuts that may also be called éclairs. These tend to be made with donut batter, and may have custard or fruit fillings piped into them prior to being topped with ganache or maple frosting. Typically, most pastry chefs disdain labeling these donut imitations as éclairs and call them "bars" instead. From a definition standpoint, the fact that such a bar is not made from choux pastry means it is not a true éclair.
AS FEATURED ON:
AS FEATURED ON:








By: Luisa Contreras

Traditionally, eclairs are topped with chocolate ganache.

By: Tsuboya

Eclairs may be filled with whipped cream.

By: David Smith

Chocolate eclairs may be filled with vanilla pastry cream.