What is the Difference Between Brown and White Rice?
When rice is harvested, it must be processed before being sent to market. In the case of both white and brown rice, the inedible outer hull of the rice is removed so that the grain of the rice is accessible. To make the rice white, the individual grains are further stripped: the bran and germ and also removed, and the grains are polished to be white and smooth. Brown rice, however, is left with these outer layers intact, and since the bulk of the nutrition is available in these layers, it is better for the consumer.
There are a number of reasons to strip rice down to the core grain. The first is that it cooks faster, and tends to create fluffier rice. In many parts of the world, this type of rice is preferred because some consumers feel that it tastes better. In addition, the nutrient rich outer layers of the rice also have a number of good fats, which can go rancid if the rice is poorly stored or not eaten soon enough. White rice is much more shelf stable than brown, and can be stored in more unfavorable conditions. Brown rice should be refrigerated, ideally, and also eaten within six months.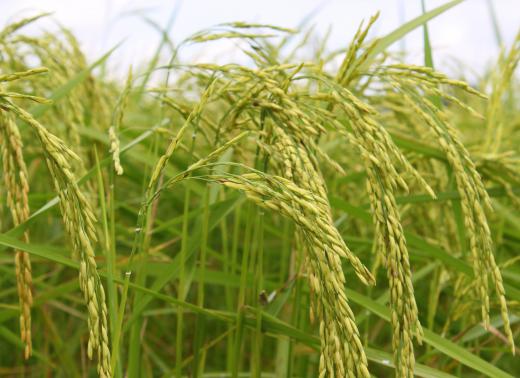 Unfortunately, many people in developing countries rely heavily on rice for nutrition. While these people ate brown rice traditionally, a growing trend towards white rice consumption has led to nutritional deficits in some parts of the world. In some areas, rice producers are trying to stave off this problem by nutritionally fortifying their rice with essential vitamins and minerals, which is a positive step. However, it is impossible to replace the valuable fiber stripped away with the bran and germ of the rice grain.
Fiber is an extremely important part of the human diet, and serves a number of dietary functions. Foods high in fiber help to maintain intestinal health, prevent cancer, fight obesity, and affect the probability of getting both heart disease and diabetes. For this reason, most dietary recommendations include a high consumption of whole grains, including brown rice. Many consumers, however, omit the "whole" from the "grains," and eat a lot of heavily processed, stripped grain products like white bread and white rice, probably because these flavors appeal to their palates more. Sadly, these foods do not have the same dietary value that whole grains do, and heavy consumption of them can lead to dietary imbalances.
AS FEATURED ON:
AS FEATURED ON:








A rice plant.

Cooked white rice.

A field of rice.

By: airborne77

Uncooked white rice.

By: airborne77

Brown rice.

By: IngridHS

Red rice.

By: Elena Schweitzer

Different types of rice, including brown and white.

By: Birgit Brandlhuber

Converted rice has the nutritional benefits of brown rice but the flavor and texture of white rice.