What is the Difference Between Eating Apples and Cooking Apples?
With more than 7,000 varieties of apples known to exist, it is no wonder they are often classified into smaller groups. Eating apples and cooking apples divide the common varieties according to several factors, including their size, sweetness, and texture. Other types may be considered multi-use or all-purpose apples.
For some people, the true herald of autumn is fresh apples appearing in farmer's markets and stores. All kinds of apples appear around August or September, and remain in season for about two months. Eating apples tend to be large, with a high sugar content. Many people find that they taste best raw.
One variety often marketed for eating is the relatively bland Red Delicious, familiar because of its bright red color. There are dozens of other good eating apples, and most are far more flavorful than this lunchbox standard. Gala and Fuji apples are now regular features at many grocery stores, and are delicious when ripe. At farmer's markets or specialty stores, shoppers may find the flavorful Winesap, delicate Pink Lady, or the one of the sweetest of eating apples, Golden Delicious.
The main difference between eating apples and cooking apples is their sugar content, with cooking apples tending to be tarter and also better for storage. The Gravenstein apple is harvested early, and is considered by many to be the best apple for cooking pies and tarts. With its pale green color with distinctive red striping, these apples were long the source of fortune for many Northern Californian farmers, who had the perfect climate for growing the fruit. The variety has been supplanted by the bright green Granny Smith as the premier cooking apple, but many experts believe this to be due to how easily Granny Smith apples are produced, rather than superior taste. Gravenstein apples are harvested usually in late August, so people who them may want to stock up.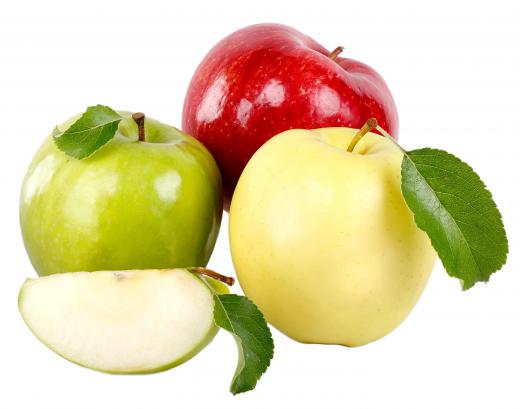 Other cooking apples are considered better for cooked-down recipes, such as applesauce, where the apple does not need to retain its shape. McIntosh, Jonathan, and Jonagold varieties are all considered good for applesauce, while Honeycrisp, Crimson King, and Katy types are often used for juicing or making cider. For baked apples, which need to retain their shape, Braeburn, Empire, and Rome apples are all excellent choices.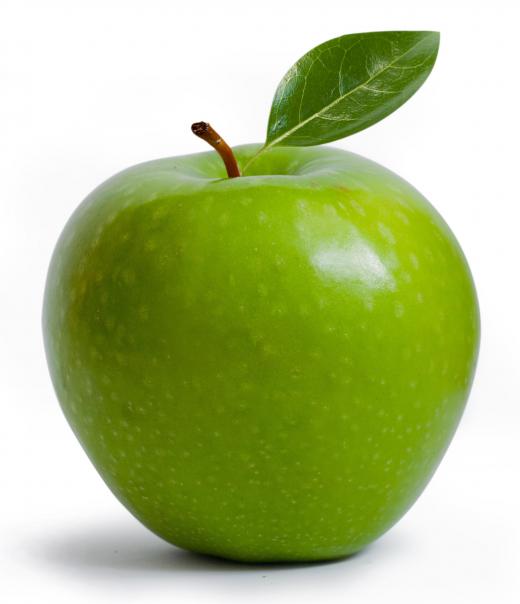 Eating apples and cooking apples can be substituted for one another, if necessary. If using a cooking apple in place of an eating one, people should be aware that the apple will probably be quite tart. Cooking apples can add acidity to salads or snacks, and as such are delicious with creamy ingredients such as goat cheese or Brie. Eating apples can easily be used in pies or for other cooking, but cooks should lower the amount of any added sugar, as the apples will make up for it. People who want to baked eating apples should choose those that will retain their shape when cooked.
AS FEATURED ON:
AS FEATURED ON:








A fuji apple is a particularly sweet and crisp eating apple.

By: rimglow

Applesauce.

By: tesgro

Green, red, and yellow apples.

By: xiangdong Li

Granny Smith apples work well for baking.

By: denphumi

Red Delicious apples are sweet and popular for eating.

By: volff

Golden Delicious apples are eating apples.

By: TristanBM

Gala apples are often eaten, but usually aren't used for cooking.

By: robert lerich

A Honeycrisp apple.

By: WavebreakmediaMicro

Rare apple varieties like the Winesap may be found at farmer's markets.

By: Malyshchyts Viktar

Most varieties of green apples tend to be better for baking.

By: CandyBox Images

The fruit used to make an apple pie should be tart and firm to the touch.