What is Thousand Island Dressing?
Thousand Island dressing is a condiment and salad dressing that is popular in Canadian and American cuisine. It is usually composed of ketchup, mayonnaise, and hot pepper sauce. Minced vegetables, like onions and pickles, are often added as well. It is a variation of Russian dressing.
Russian dressing became popular in the United States in the late 19th century. Early versions of it were made with mayonnaise and ketchup, but yogurt has slowly started to replace the mayonnaise in some recipes. Horseradish is often also added to give it a spicy kick. Russian dressing is the traditional dressing for the Reuben sandwich — which also includes corned beef, Swiss cheese, and sauerkraut on rye bread — but Thousand Island dressing is sometimes used in its place.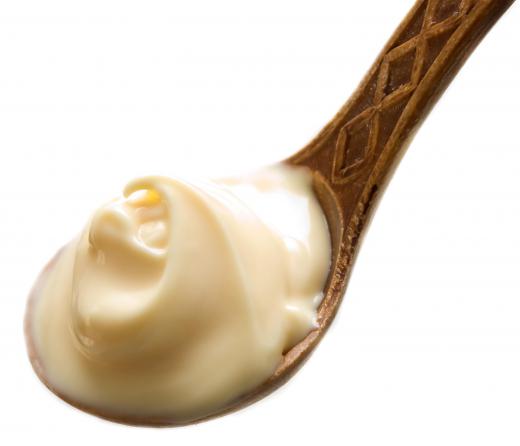 There are many stories about the origins of Thousand Island dressing. Some recall a story that the dressing was created in Clayton, a small resort town located in the Thousand Island region of the St. Lawrence River in New York state. According to this version, the recipe probably dates back to the early 1900s and was created by a fishing guide, George Lalonde, who used it on fish and salad. Lalonde supposedly gave the recipe to an actress named May Irwin, who not only named it, but also gave it to a friend who owned a hotel and restaurant. There does not seem to be any evidence to substantiate this story and it is unclear where the recipe really came from.
This dressing became a popular condiment on burgers during the 1950s. Perhaps the most notable use of the dressing is by McDonald's®, which uses it on its Big Mac® sandwich. The version of the recipe used by the restaurant chain, which it calls special sauce, is said by some people to also contain some mustard.
While the common main ingredients of Thousand Island dressing are ketchup, mayonnaise, and hot pepper sauce, recipes can vary greatly. Some call for finely chopped bell pepper and pimento, while others may use minced pickles or hard-boiled egg. Some people think that the presence of chopped vegetables is how the dressing got its name, because the Thousand Islands refers not to the region but to the little bits floating in it.
A vegan version of Thousand Island dressing can also be made using a vegan mayonnaise. These types of food items do not contain any animal products, such as eggs. Typical mayonnaise is basically composed of eggs and oil. To make an egg-free version, soy milk is often used instead.
AS FEATURED ON:
AS FEATURED ON:








By: Alexandra

Mayonnaise is one of the essential ingredients in Thousand Island dressing.

By: valery121283

Thousand Island dressing is popular in American cuisine.

By: Malyshchyts Viktar

Some thousand island dressing recipes call for finely chopped bell peppers.

By: marrakeshh

A dollop of Thousand Island dressing can add creaminess to a main dish salad.

By: Syda Productions

Thousand Island dressing is used as a sauce for McDonald's Big Mac.

By: atm2003

Thousand Island Dressing may be used on a Reuben sandwich, in addition to ingredients like Swiss cheese.