Turon, sometimes referred to as banana lumpia, is a popular Filipino snack consisting of a banana wrapped in a deep-fried spring roll wrapper, usually coated with caramelized sugar. Slices of jackfruit often accompany the banana as a complementary filling. It is one of the more common street foods in the Philippines, sold by many street vendors in both urban and rural areas. Turon is often sold alongside other banana-based snack foods, such as banana cue and maruya, or banana fritter.
The creation of turon is often linked to the strong Chinese presence in the Philippines prior to the country's colonization by Spain. Dishes such as pancit, or Chinese-style noodles, were created by incorporating traditional Filipino foods with Chinese cooking techniques. The turon was likely developed as a combination of Chinese spring rolls and the Filipinos' fondness for bananas.
Cooks usually boil bananas in water to soften them before rolling them into the thin flour wrappers. Once wrapped, the rolls are deep-fried until the wrappers become crisp and golden-brown in color. Many cooks prefer to lightly coat the wrappers in brown sugar before frying, creating a crisp, candy-like shell around the snack. The combination of the soft, mushy banana and the crunch of the sugar-coated wrapper make for an appealing texture in the mouth. The sweetness of the dish makes it an extremely popular snack among children.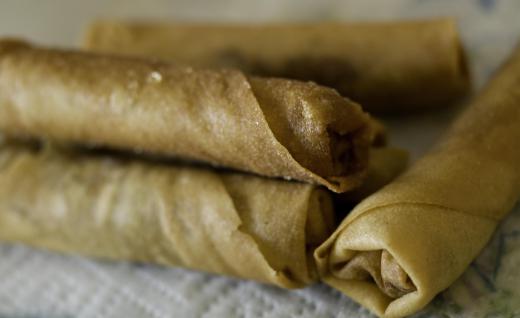 Vendors usually serve freshly-cooked turon wrapped in a small plastic bag. The snack is then eaten like a finger food, held by hand and bitten until fully consumed. Some establishments add variations to the traditional turon, such as serving it a la mode or drizzled in butterscotch syrup. Others offer dipping sauces to augment the snack's flavor. A number of cooks experiment by adding unconventional fillings to the snack, such as sweet potato and mango.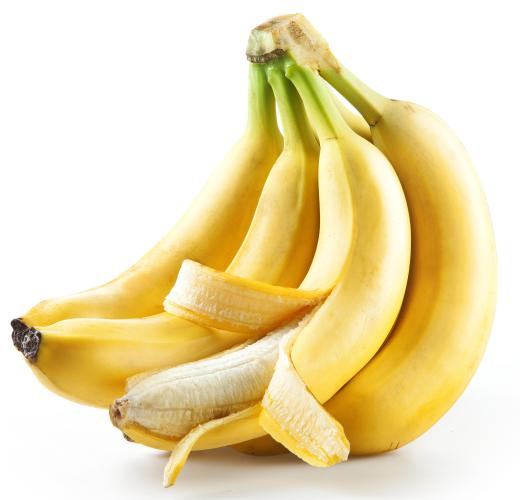 Turon is a characteristic element of Filipino culture; most Filipinos grow up enjoying it as an afternoon snack, or as a treat after a long day at school. Many Filipino adults step out of their workplaces during lunch breaks to find a turon vendor, using the snack as a quick pick-me-up before returning to work. Part of turon's popularity comes from its simplicity; since the ingredients are both cheap and plentiful, the snack is one of the most accessible treats available in the Philippines. Many Filipinos consider turon an essential part of their national identity, in the same way that many Americans feel about apple pie.
AS FEATURED ON:
AS FEATURED ON:








By: stoonn

Jackfruit is often included in a turon.

By: Jose Gil

Turon are a type of lumpia filled with banana and other fruit.

By: Tim UR

Bananas are boiled in water before being rolled in spring roll wrappers.