Vadouvan is a curry-style spice blend popular in France and Belgium as a general spice used for flavoring many sauces and a number of foods, including soups, meats, and stews. It is a French interpretation of Indian spice blends and is somewhat similar to a masala. Vadouvan contains flavorful vegetables like onions, shallots, and garlic cloves plus a wide variety of spices similar to those found in other Indian spice blends, including cumin, turmeric, and cardamom. This spice mix can most often be found at grocery or spice markets that cater to French or Indian customers. It is also reasonably inexpensive and simple to make at home.
Cooking this spice at home does not require any unusual equipment, difficult steps, or expensive ingredients. The cooking process for vadouvan starts in a pan and finishes on a cookie sheet in the oven. Vadouvan is made by first cooking onions, shallots, and garlic in butter or oil. Sometimes, chopped peppers are also added. Once the mixture has browned to a golden crisp, salt, pepper, and spices are mixed in. The fragrant blend is then spread out on parchment paper and baked.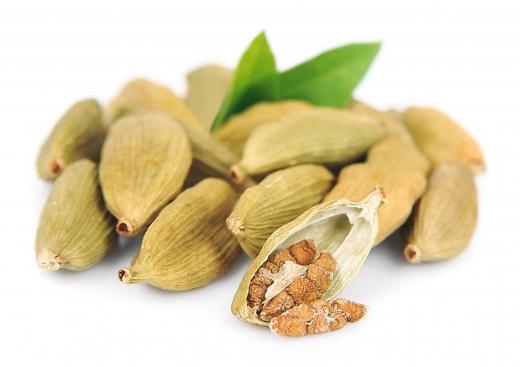 The spices in this mixture generally include common curry spices like cumin, turmeric, and cardamom, as well as mustard, red pepper, and fenugreek. The fenugreek is often freshly ground before it is added to the pan to toast with the other spices. Vadouvan also contains cloves, and may contain curry leaves.
Mustard and cumin are some of the most popular ingredients found in Indian spice blends like vadouvan. The mustard in these spice blends is related to the common yellow mustard, but it is darker in color and more potent. Similar to Chinese mustard, this type of mustard is usually found as a dry powder in a small canister. Cumin spice is made from cumin seeds, which are ground before they are used. This spice is widely used in Indian cooking and is found in recipes ranging from meat dishes, stews, and soups to breads and crackers.
Many Indian food cooks insist that spices are the most potent when they are freshly ground and toasted in oil. Spices can be ground by hand or by using a clean coffee grinder. The scent of the toasting herbs can be potent and can cause discomfort in the eyes, mouth, or throat of sensitive individuals. Ensuring good ventilation in the cooking area by opening a door or window can help clear out some of the aroma.
AS FEATURED ON:
AS FEATURED ON:








By: margo555

Cardamom is typically used in vadouvan spice mixes.

By: jedi-master

Fenugreek seeds are a popular ingredient in Indian dishes.

By: SNEHIT

Some recipes for vadouvan call for curry leaves.

By: Photographee.eu

Vadouvan often includes turmeric.