Veal piccata is a dish in Italian cuisine consisting of a thinly sliced and sauteed cut of veal in a butter and lemon sauce with capers. White wine, shallots, and garlic are other common ingredients in veal piccata. The dish is often accompanied by pasta, potatoes, polenta, or rice.
The word piccata means either "larded" or "tasty and piquant," depending upon the source. Larding is a culinary technique in which slivers of fat are injected into a cut of meat in order to make it more tender and richer in flavor. While veal piccata was presumably first prepared this way, most recipes now use a thin slice of meat lightly breaded and fried in butter.
Veal, the centerpiece of veal piccata, is the meat of a calf, or young cattle, usually slaughtered around four to six months after birth. Veal is very tender, delicate in flavor, and lighter in color than mature beef, ranging from ivory to rich pink depending upon the diet and age of the calf. Piccata is also commonly made with chicken instead of veal, a more politically correct choice for those who object to eating the meat of an immature animal.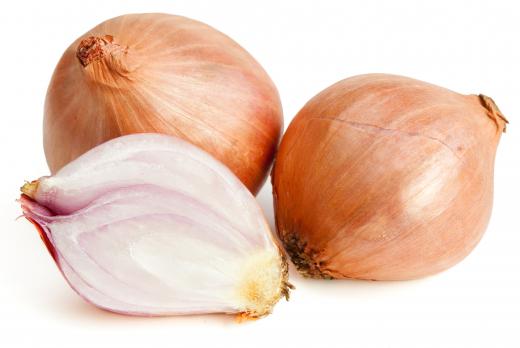 The thinness of the meat is essential to veal piccata, so the veal is often pounded flat with a meat tenderizer before cooking. The veal is seasoned with salt and pepper, dredged or sprinkled with flour, then browned in a pan in butter or olive oil. The pan drippings are used to make the piccata sauce. Ingredients such as white wine, capers, shallots, and lemon are stirred into the pan and reduced, or cooked down. Butter is added to the sauce before serving. The veal is cooked through either on a low heat in the pan with the sauce, or in the oven while the sauce is being prepared.
Veal piccata is both delicious and simple to prepare. The saltiness of the capers, sourness of the lemon, and richness of the butter balance each other well and complement the lightness of the veal. Capers can be too salty for some palates, so rinsing them off before adding them to the sauce is recommended.
Veal piccata is a dish that lends itself to substitutions and creativity, because of its simplicity. There are many different recipes for veal and chicken piccata available. Many include additional ingredients like parsley and paprika. It is essential to use real butter and not margarine for the sauce to have the proper consistency.
AS FEATURED ON:
AS FEATURED ON:








Veal Piccata usually includes capers.

Veal piccata is often made with shallots.

Veal piccata is often served with polenta.

By: ExQuisine

Veal.

By: Barbara Pheby

Some veal piccata recipes call for parsley.

By: al62

The meat in veal piccata is first seasoned with salt and pepper.