Your State's Favorite Pie
January 23rd is National Pie Day and we can't think of a better way to celebrate than with a slice (or two… or three… or four) of our favorite pie! There are so many kinds to choose from, whether you're a chocolate-lover or a fruit-filled fan.
Just like every individual has their favorite kind of pie, each state prefers one type of pie over another. Take a look at our map below to find out which pie is your state's favorite!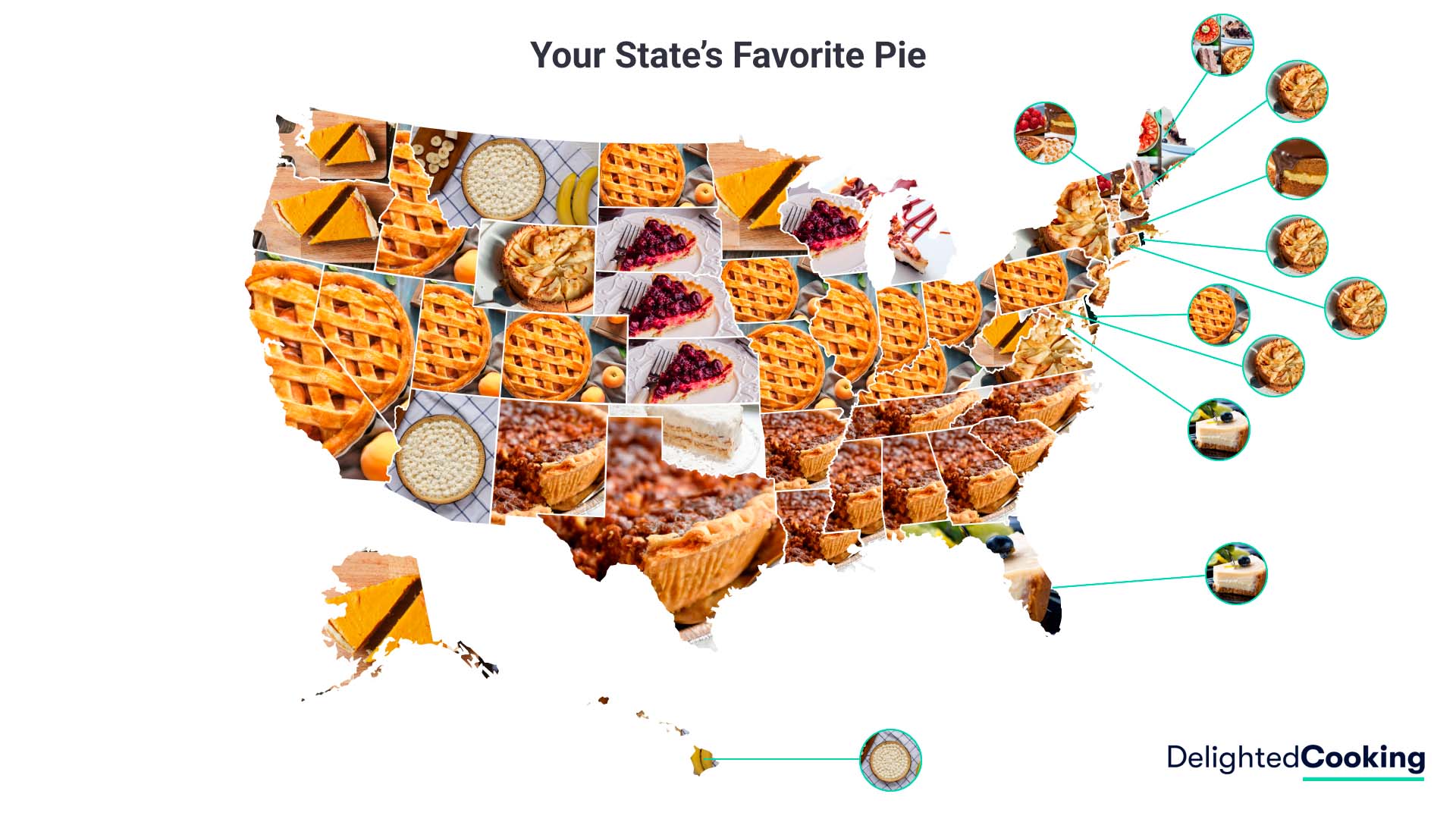 Interesting Facts and Findings
It's no surprise that pecan pie dominates the south, seeing as that's where it was first invented in the 1800s
Peach pie is the nation's favorite overall, being the most popular in 14 states
Fittingly, the pie of choice in Massachusetts is Boston Cream Pie

It is also the official Massachusetts State Dessert

Boston Cream Pie is technically a cake (but we're sticking with it because it has "pie" in the name—and how could we leave it out of National Pie Day?)
90% of Americans agree that a slice of pie is one of life's simple pleasures
Two states felt so passionately about pies—our analysis found that Maine and Vermont each had four favorite pies

Main loves strawberry, blueberry, apple, and chocolate
Vermont's favorites are raspberry, Boston Cream, lemon meringue, and pecan
Methodology
Our analysts looked at Google Trends data sets surrounding 15 popular pies between Jnauary 2021 and January 2022 to find out which pie was the favorite in each state. The pies we analyzed data for are:
Coconut Cream
Strawberry
Blueberry
Pumpkin
Cherry
Peach
Banana Cream
Boston Cream
Chocolate
Lemon Meringue
Turtle
Key Lime
Pecan
| | |
| --- | --- |
| State | Favorite Pie |
| Alabama | Pecan |
| Alaska | Pumpkin |
| Arizona | Banana Cream |
| Arkansas | Pecan |
| California | Peach |
| Colorado | Peach |
| Connecticut | Apple |
| Delaware | Peach |
| District of Columbia | Key Lime |
| Florida | Key Lime |
| Georgia | Pecan |
| Hawaii | Banana Cream |
| Idaho | Peach |
| Illinois | Peach |
| Indiana | Peach |
| Iowa | Peach |
| Kansas | Cherry |
| Kentucky | Peach |
| Louisiana | Pecan |
| Maine | Strawberry/Blueberry/Apple/Chocolate |
| Maryland | Apple |
| Massachusetts | Boston Cream |
| Michigan | Turtle |
| Minnesota | Pumpkin |
| Mississippi | Pecan |
| Missouri | Peach |
| Montana | Banana Cream |
| Nebraska | Cherry |
| Nevada | Peach |
| New Hampshire | Apple |
| New Jersey | Apple |
| New Mexico | Pecan |
| New York | Apple |
| North Carolina | Pecan |
| North Dakota | Peach |
| Ohio | Peach |
| Oklahoma | Coconut Cream |
| Oregon | Pumpkin |
| Pennsylvania | Peach |
| Rhode Island | Apple |
| South Carolina | Pecan |
| South Dakota | Cherry |
| Tennessee | Pecan |
| Texas | Pecan |
| Utah | Peach |
| Vermont | Raspberry/Boston Cream/Lemon Meringue/Pecan |
| Virginia | Apple |
| Washington | Pumpkin |
| West Virginia | Pumpkin |
| Wisconsin | Cherry |
| Wyoming | Apple |