How Do I Choose the Best Chipotle Pepper?
Those who went to buy the best chipotle peppers should research the growing conditions, processing, and distribution for these types of food products. As with other kinds of flavorful peppers, chipotle peppers come in many different varieties. The use of the term "chipotle pepper" has become extremely popular, even in areas outside of the communities in Latin America, and thus may often be used to refer to a broader range of end products than the average consumer may realize.
In order to choose the best chipotle pepper products, it's important to understand that much of the flavor of these peppers is derived from smoking them. In general, chipotle peppers are simply smoked jalapeno peppers. Many who are familiar with the small, green jalapeno pepper and its hot taste may not be as familiar with chipotle peppers, and may think that these are a different variety of peppers altogether. While the variety of peppers used for smoking may differ, many of the authentic chipotle products sold internationally are made from jalapeno peppers.
Because the chipotle pepper is essentially a smoked pepper, selecting the best chipotle pepper products requires understanding how these raw peppers are smoked to create flavor. Different kinds of smoking produce different flavor results for this kind of product, even though all may be labeled as "chipotle." For example, some experts distinguish between a chile ahumado, or "smoked chile," also called a tipico, and a morita. The former type of smoked pepper is smoked for a long time, and so its exterior turns to a light brown coloration. By contrast, the second type of pepper is smoked for a shorter time, and has a different exterior color.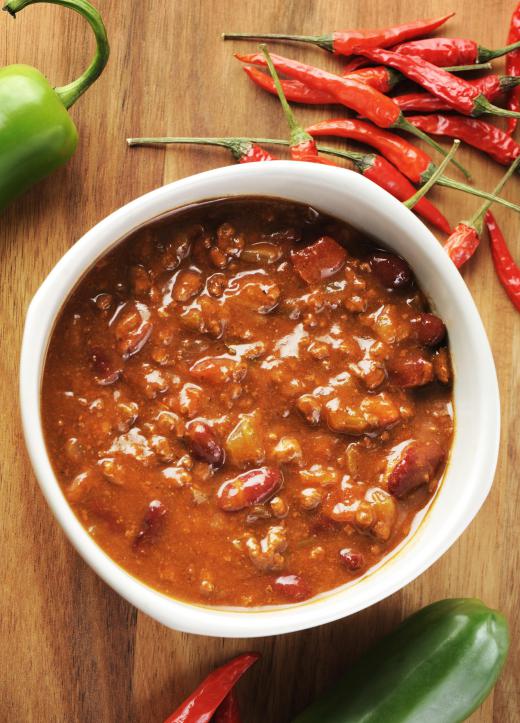 Shoppers who want to get the best chipotle peppers can choose between different processing methods for these foods. These kinds of products are available ground into a powder, or canned along with a type of vinegar sauce called adobo sauce. They can also be sold pickled or processed in the form of a paste or spread.
It's also important to research how the peppers for chipotle products are grown. A natural organic label may lead buyers toward the best products, while some superior products may also be grown more locally and require less effort and time for shipping. Shoppers can research the web or print catalogs of a manufacturer or retailer in order to find out which products are freshest and most naturally produced.
AS FEATURED ON:
AS FEATURED ON:








By: ZIQUIU

Understanding the smoking process is part of choosing a chipotle pepper.

By: Fotocat4

Chipotles are smoked jalapeno peppers that can be added to chili.