Soy sauce is a condiment widely used in Asian cuisine. Also known as soya sauce, this non-viscous liquid has a strong salty taste, and can be used sparingly to contribute flavor to a wide variety of foods. It is believed to have originated in China, and to have later spread to Japan and other areas in Asia. Use of this sauce has since spread beyond the Asian continent, and it is even featured as an ingredient in Western dishes and condiments, such as Worcestershire sauce.
Though recipes for soy sauce differ among regional producers of the condiment, the primary ingredients are soybeans, roasted grain, salt, and water. The soybeans are steamed and mixed with ground roasted wheat. Yeast, or koji, is usually added to the wheat-soy mixture, and then combined with water and salt to form the liquid, moromi. Once the moromi is formed, the culturing process begins.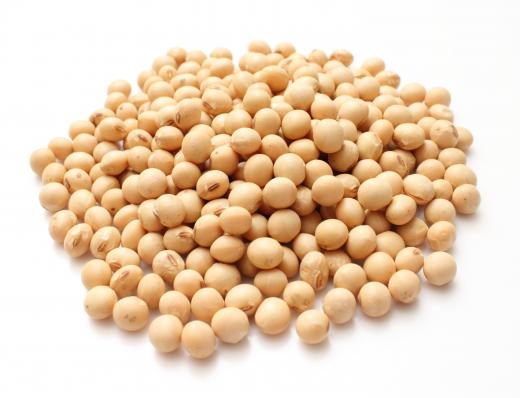 The moromi is allowed to ferment for a time and is then pressed to separate the liquid from the solid constituents. The remaining liquid is then heat-sterilized and inspected for quality. If the liquid, now soy sauce, is of acceptable quality, it is bottled and shipped to stores.
As is the case for many traditional foods, advances in production technology and widespread demand for exportation of goods has affected traditional methods of making soy sauce. The fermentation process, which is essential to creating the unique flavor, was traditionally carried out by placing the moromi in large urns, and allowing the sun to do the work. Due to demands for mass production, this method is often replaced with machine-controlled fermentation.
In addition, new methods of producing this product have brought about the need for additives. For example, soy protein is often used in place of whole soybeans, which yields a moromi lacking in color and flavor. In this case, caramel coloring and artificial flavoring must be added to bring the bland sauce up to speed with its authentic cousin.
Regional recipes for soy sauce include added ingredients to alter the taste, color, and consistency. In some Chinese versions, for example, molasses is added to lend a thicker, sweeter quality to the sauce. Indonesian soy sauces, in comparison, are given different names according to whether they are salty or sweet. Kecap manis is an Indonesian version with a pronounced sweet flavor, whereas Kecap asin is saltier, and similar to Chinese varieties. Other distinct flavors emerge in Hawaiian, Taiwanese, and Korean sauces. The regional master in soy sauce variation, however, is Japan, where there are more than 15 varieties.
AS FEATURED ON:
AS FEATURED ON:








By: terumin

Soy beans.

By: Ruslan Olinchuk

Soy sauce likely originated in China.

By: Printemps

Wheat is used to make soy sauce.

By: karandaev

Soy sauce is a condiment widely used in Asian cuisine.

By: Ekler

Though its origins are in the Asian continent, the popularity of soy sauce has spread worldwide.