What is a Reduction Sauce?
A reduction sauce is a sauce made for food which uses the drippings and juices left over after cooking meat. Since these drippings are often quite flavorful, the resulting sauce is also dense in flavor, and it tends to complement the food very well, since it uses the juices exuded by the food while it cooks. An assortment of ingredients are added to these drippings to create a reduction sauce, ranging from cream to balsamic vinegar, depending on the desired effect.
To make a reduction sauce, cooks start by preparing the meat normally. When the meat is finished, it is taken out of the pan and allowed to rest while the sauce is made. Typically, excess fat is skimmed off so that the sauce will not be greasy, and then the volume of the drippings in the pan is doubled with the addition of ingredients such as stock, cream, wine, balsamic vinegar, or juices. In some cases, ingredients like vegetables may be briefly cooked in the drippings before the liquid is added.
Next, the sauce is allowed to simmer so that it reduces in volume. This reduction makes the sauce dense and thick, so that it can be used like a gravy. It also concentrates the flavors. As a result, reduction sauces are often very strongly flavored, and most cooks use only a little bit, so that the flavor does not becomes overwhelming. The sauce can be poured over meat like a gravy, or it can be artfully drizzled so that the plate looks distinctive, depending on the cook's inclinations.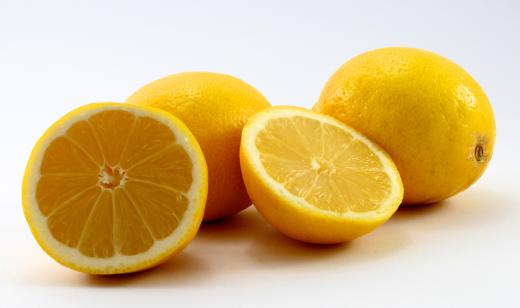 Once the sauce is finished, it may be sieved to force out chunks of ingredients before being added to the food, or it may be left chunky. It may also be paired with other sauces or flavorings, as might be the case with a wine reduction sauce served alongside a horseradish dipping sauce. Consumers can layer the flavors as desired.
Some cooks call sauces of this type "pan gravy," since it is often made in the pan that was used to cook the food, or the drippings from a roasting pan are poured into a large saucepan. Some common vegetable additions to reduction sauce include things like capers for a lemon caper sauce, shallots or garlic, and mushrooms. In many cases wine or brandy are used in the sauce, but cooks who prefer not to work with alcohol can use things like juice, cream, soy sauce, vinegar, or stock. More distinctive additions like chocolate and wasabi can also be used for a more exotic flavor.
AS FEATURED ON:
AS FEATURED ON:








By: rimglow

Balsamic vinegar, which is often used to make reductions.

By: Britta Laser

Lemons, which can be used to make a reduction sauce.

By: romaneau

Cognac or another alcohol is often used in a reduction sauce.

By: mbongo

Mushrooms are often added to reduction sauces.

By: karandaev

Soy sauce can be used as a substitute to wine in reduction sauce recipes.