What are Smashed Potatoes?
Smashed potatoes are a hearty variant on the more well known mashed potatoes. One clear difference is that smashed ones are generally prepared with the skins on, creating a bit more chunkiness to the finished dish. There are recipes that include peeled potatoes, but these are less common than "skins on" recipes.
One distinct difference between smashed and mashed potatoes is the way in which the potatoes are broken up. Most recipes argue for hand mashing with either a fork or handheld masher. Mashed potatoes, on the other hand, are often made with a handheld masher and then whipped with an electric mixer. By using a hand masher, the potatoes will be chunkier and not have a creamy, whipped texture, and it may also shorten the preparation time. If the cook decides to resort to the electric mixer, they become mashed potatoes, regardless of whether the skins are on or off.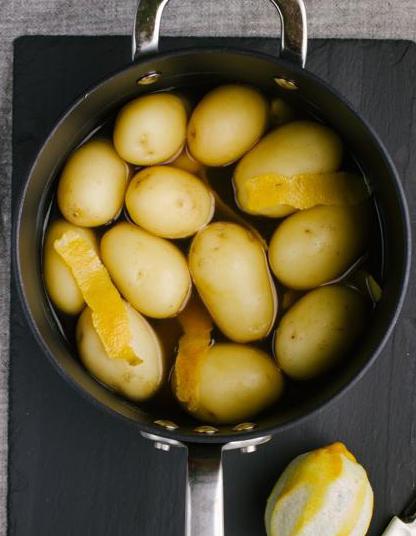 Most recipes for smashed potatoes start with boiling the potatoes until they are fully cooked. Large potatoes can be cut into squares about 0.25 of an inch (0.635 cm) on each side. Many cooks prefer to use smaller, new potatoes instead of the traditional russets, as the skin is more easily chewed. Good choices for include new red potatoes and Yukon Golds.
Once the potatoes are cooked, they are smashed with a fork or potato masher, while butter and cream are added. The amount of cream or milk can differ significantly in recipes, but it is usually less than would be used in mashed potatoes. The amount of butter added tends to be higher, but can be adjusted according to taste and dietary restrictions.
Smashed potatoes lend themselves well to additions because diners expect a higher degree of texture from them. Common additions include bacon, green onions, parsley, and most particularly garlic. Salt and pepper are often used for seasoning.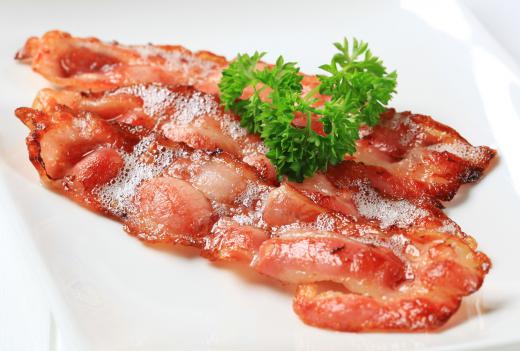 Some recipes vary not only in texture, but also in flavor. Hot peppers or red pepper flakes can be added for a spicy variant. For an Italian variety, some chefs recommend adding finely chopped fresh basil and oregano. Other recipes add grated cheese that produces a taste similar to twice baked potatoes.
Differences in preparation are also notable in the many smashed potatoes recipes available on the Internet. Several recipes significantly reduce preparation time by preparing the potatoes in a slow cooker. In addition to saving on the number of bowls the cook will have to use, slow cooker cooking saves time. A working person can leave potatoes cooking during the day, and come home in time to complete the smashing process.
In any variation, smashed potatoes are considered by many to be some of the best comfort food. The chunky texture is appealing, and most find this dish an excellent alternative to mashed potatoes.
AS FEATURED ON:
AS FEATURED ON:








By: Amelia Crook

Smashed potatoes are typically mashed potatoes with the skin still on.

By: Elvert Barnes

Red potatoes and Yukon golds have a firmer texture than russet potatoes, making them good for smashed potatoes.

By: Viktor

Bacon is sometimes included in smashed potatoes.

By: Natika

Fresh basil can be added to smashed potatoes for extra flavor.

By: Schlierner

Garlic is often added to smashed potatoes.

By: Brent Hofacker

Red pepper flakes can be used in a spicier smashed potato dish.

By: Barbara Pheby

Parsley is often added to smashed potatoes.

By: Taiga

For an Italian twist, a person can season their smashed potatoes with oregano.

By: Natika

Yukon gold potatoes have a natural buttery flavor.

By: Joe Gough

Smashed potatoes are a variant of mashed potatoes.