What are Some Different Types of Pasta Sauces?
The different types of pasta sauces range from light to heavy, meatless to meaty and from instantly ready to best the next day. Most of us know that the Italians invented pasta, but many of us don't realize that the use of sauces dates back to the Romans and about 200 A.D. These early sauces were usually very flavorful and highly seasoned. Some of the common pasta sauces used today include Alfredo, Pesto, Bolognese and Tomato.
The first tomato sauce used for pasta is credited to an Italian Chef, Francesco Leonardi, who invented it for spaghetti in 1790. He published the recipe in a cookbook and many different versions of this traditional tomato sauce are used for pasta sauces today. Onions and garlic are sauteed in olive oil before the tomatoes and/or tomato paste, pepper, salt, basil and oregano are added. This basic tomato sauce should simmer at least 30 minutes before serving over pasta, but it is often much more flavorful if cooled, refrigerated and then reheated gently to serve the following day.
Bolognese pasta sauce is also called Ragu and it comes from the Bologna region of Italy. Like the traditional tomato pasta sauces, it also starts with onions sauteed in olive oil. But unlike traditional tomato pasta sauce, the Bolognese version has meat, milk, carrots and celery added. Both pork and beef are often used in a Bolognese pasta sauce. Nutmeg is usually used for seasoning along with thyme and basil.
Pesto means pounded in Italian. In Ancient Rome, the fresh basil leaves used to make a Pesto sauce were pounded with a mortar and pestle, but today many cooks use a food processor to make the sauce. It's important to only used fresh basil leaves and not dried when making Pesto. When making Pesto pasta sauces, garlic cloves, fresh basil, pine nuts and seasonings are processed together. Olive oil and Parmesan cheese are then added to the Pesto.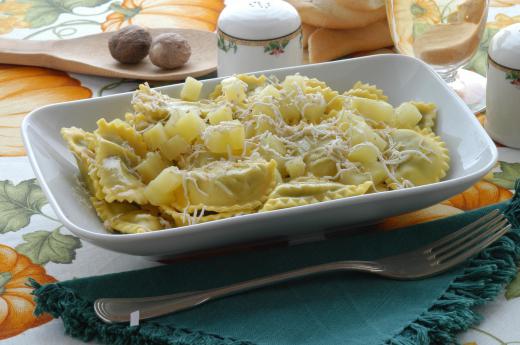 Alfredo sauce is a white cream sauce credited to an Italian chef, Alfredo di Lello, who invented it in the 1920s in Rome. It is one of the most popular pasta sauces enjoyed today and is especially associated with the pasta dish, Fettuccine Alfredo. The sauce is traditionally made with butter, cream, Parmesan cheese and garlic. Freshly ground pepper is added to Alfredo sauce and some cooks also add a pinch of nutmeg.
AS FEATURED ON:
AS FEATURED ON:








By: teine

Bolognese sauce is a red type of pasta sauce.

By: Viktorija

Pesto sauce is made from basil leaves.

By: Comugnero Silvana

Mezzaluna pasta.

By: Bert Folsom

Orzo pasta.

By: Elenathewise

Parmesan cheese is a major ingredient in traditional Alfredo sauce.

By: Studio Gi

Bowl of pesto with basil leaves.

By: Schlierner

Many pasta sauces feature garlic.

By: picsfive

Olive oil is a key ingredient in many pasta sauces.

By: Marzia Giacobbe

Italian marinara sauce is sometimes more robust and spicier than other red sauces.

By: margo555

Pasta can be tossed with garlic and a small amount of heart-friendly olive oil.

By: claudiozacc

Ragù, or Bolognese, sauce originated in Bologna, Italy.

By: sommai

A béchamel sauce, made with butter, flour, and milk, is used in many pasta dishes.