What are Some Different Types of Sandwiches?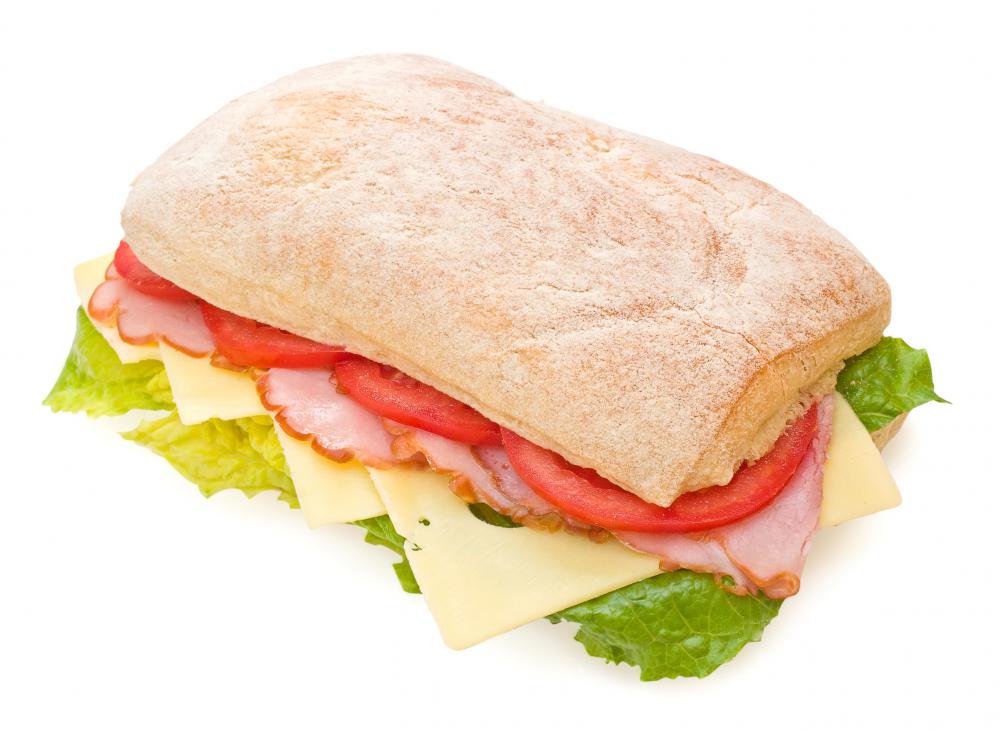 Sandwiches are popular in today's culture, since they are easy to make and eat practically anywhere and can be as fancy or as simple as we like. Po-boy, muffuletta, clubhouse, Reuben, grilled, meat, tuna or egg salad — these are just some of the many different types frequently eaten for lunches or light dinners.
Tuna or chopped hard boiled eggs mixed with mayonnaise is a classic filling that can be made with low-fat mayonnaise for those watching their intake of saturated fat. Grilled cheese is another popular classic choice, and many different types of breads and fillings can be grilled to make delicious sandwiches. A fancier one can be made with foods such as pears, blue cheese, and French bread. Whether a cook uses an indoor or an outdoor grill, grilled sandwiches accompanied by soup or salad can make a hot and satisfying meal.
The Reuben sandwich is a grilled or toasted variety that is usually made on rye or pumpernickel bread. Thousand Island or Russian dressing and Swiss cheese are almost always added. Corned beef and sauerkraut are its classic fillings, but other deli meats and coleslaw or cabbage can also be used.
Clubhouse, or club, sandwiches are unique in that they have three layers of bread rather than two. They are cut into quarters and the layers are held together with long picks. This variety was first made popular at country clubs and hotels in the United States by the end of the 19th century. The bread is usually toasted and filled with sliced, cooked chicken breast, bacon, tomato slices, and lettuce.
Muffulettas are Italian sandwiches made on round bread. Provolone, salami, ham and an olive salad form the layers between the bottom and top slices of bread. The olive salad is made with olives and seasonings such as garlic, capers and onions. Muffulettas are popular in New Orleans, as are po-boys.
The po-boy, or poor boy, is made on a French baguette. Shrimp or roast beef are very popular fillings, although oysters, ham, or fried catfish po-boys are also quite common. Less expensive fillings include sausage or even French fries and gravy. They were called "poor boys" as they were thought to be filling and low cost enough for people who didn't have much money.
Sandwich made with ciabatta bread, ham, tomatoes, lettuce, and Swiss cheese.

Mortadella sandwich with cheese.

Club sandwiches are made with three slices of bread instead of two.

A gyro sandwich.

For a fancier grilled cheese, consider additions such as pears.

Grilled cheese is an easy meal made with American cheese.

Chicken breasts can be used in sandwiches.

Salami is a popular ingredient in a sandwich.

Roast beef is a popular meat used for sandwiches.

Honey and peanut butter sandwiches are a favorite for kids and adults alike.

Spice-rubbed roast chicken is a staple in Greek souvlaki sandwiches.

The bottom half of a muffaletta sandwich is slathered with olive salad.

Sauerkraut is a popular condiment for sandwiches.

Pickles are used on a variety of sandwiches.

Flour tortillas can be used to make BLT wrap sandwiches with bacon, lettuce, and tomato.