What Are the Different Types of Chili Powder?
With dozens of different chili pepper species in the world, it's no surprise that there are many different types of chili powder blends. Some chili powders contain only a specific species of powdered chili pepper, but many commercial blends contain mixtures of several peppers, along with complementary spices. Chili powder may be classed by heat level, such as mild, medium, hot, or super hot. It may also be described by its association with a particular type of cuisine, such as Mexican or Indian chili powders. Finally, powders may also be described by their key ingredient, such as habenero or cayenne.
Powders available by heat level are often a good choice for chili novices. Mild or light powders are frequently found in grocery stores, and may contain a blend of sweet paprika, a mild chili, and spices such as oregano and cumin. Medium-heat powders may contain a blend of a medium and light chilies, often ancho and cayenne, as well as spices and salt. Hot and super hot chili powder is not for the faint of heart, often blended from fiery components like habenero, cayenne, or Thai bird's eye chilies.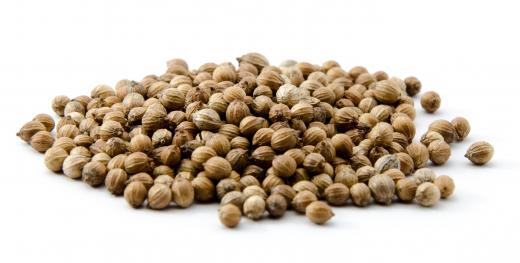 Depending on the type of food being cooked, the right chili powder for a dish may vary. Mexican chili powders tend to use chili varieties and spice additives associated with Latin American and Tex-Mex cuisine. Tacos, enchiladas, and of course, chili itself can all benefit from a kick of Mexican-based powders.
Indian cuisine, which often features spicy food, may taste better when authentic Indian ingredients, such as goan peppers, turmeric, and garam masala. Indian powders are usually called for in the creation of popular Indian curry dishes, like lamb vindaloo and chana masala. Special powder blends can usually be found in Indian grocery stores, or whole chilies may be purchased and ground at home.
To recreate the delicate but explosive flavor found in many traditional Thai dishes, it is important to hunt down Thai-based powders. Thai chili powder is used to form the base for Thai curries, and typically includes dragon peppers, coriander, and peppercorns. Like Indian powders, Thai powders often much hotter than the more-common Mexican blends.
For the advanced chili chef, choosing single-origin powders may allow greater flavor and nuance when creating a dish. Kashmiri powder is made from the mild Kashmiri chili pepper, and adds a hint of spice but a great deal of bright color. Smoked paprika is another extremely mild powder used to add color and a smoky taste but not a lot of heat. Habenero powder is bright golden orange, and should be used with extreme care. Chipotle powder is usually made by grinding smoked jalapeños, creating a balanced blend of heat and smoke in an appealing, lava-red hue.
AS FEATURED ON:
AS FEATURED ON:








By: areif

Ground coriander seeds are often used to season chili powder.

By: rafer76

Chili often gets its classic flavor from a healthy addition of chili powder.

By: Viktor

Paprika, sometimes sprinkled on corn, is a mild chili.

By: WITTY

Asian cuisine often features chili powder.

By: Peter Kim

Mexican foods often contain chili powder.