What Are the Different Types of French Appetizers?
Traditional French cuisine is reflected in a wide variety of French appetizers. Breads are presented in different ways, such as dough balls filled with cream cheese or small toast triangles smothered in duck pâté. Popular French appetizers can be served on small wooden sticks, on top of pastry or in small attractive glasses. Dips, spreads and mousse are served along with bite-size portions of salad, meats, fish and eggs.
French appetizers, also known as les amuse-bouches, are varied and offer a taste of different French flavors and traditional dishes. Bouchées means "mouthful," and are appetizers roughly the size of one mouthful. French style cuisine is often recreated in small bite-size portions, such as tiny quiches. Other bouchées include accrass, which are fried fish balls, and feuilletés which are French puff pastries containing fillings such as cream cheese or fish.
Breads are commonly used as appetizers. Dough balls known as beignets, containing a vegetable or creamy filling are popular, as are cheese puffs and bread twists. Traditional French bread, such as the baguette, can be broken into pieces and eaten with dips or cheeses. A canapé consists of several layers of toasted French bread with delicious fillings between.
Egg, ham, cream and various vegetables are baked in ramekins to produce a creamy and delicious French appetizer known as oeuf cocotte. Bread is dipped into the ramekins, or the contents scooped out and spread onto toast. Salads are served as appetizers; a small portion of niçoise salad, consisting of green salad with cheese, egg or meat, is sometimes arranged on the serving table. Helix snails too can be served as finger food, fried in butter with mushrooms.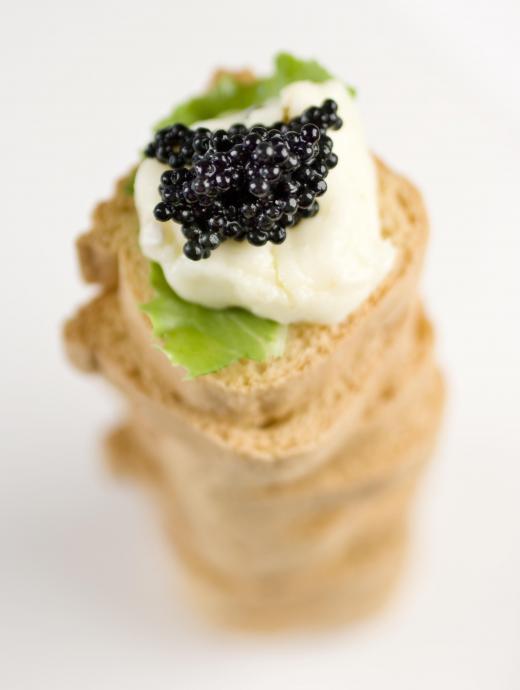 Small wooden sticks are used to create a wide variety of French appetizers. French favorites are put onto sticks to create interesting combinations, for example, prunes and smoked ham, or cheese and melon. Appetizers on sticks are known as brochettes.
A wide variety of flavors are possible which with contemporary verrines. These French appetizers consist of a very small glass filled with two to four layers of different foods. Equipped with a small spoon, layers such as fish, cream cheese, fruit and tomatoes, are eaten from the glass.
Breadsticks or strips of toast are used with dips made mainly from fromage blanc, a food very similar to sour cream. Different ingredients are added, such as chives or tomato, to make a wide variety of dips. Pâté is a traditional French food. This and other spreads, such as pork or rabbit mousse, are presented on small pieces of toast.
AS FEATURED ON:
AS FEATURED ON:








By: klsbear

Baguettes, which can be eaten with dips or cheese.

By: Natalia Mylova

Tapenade served with a slice of bread is a popular French appetizer.

By: Betty Abrantes

Caviar appetizer with fromage blanc and fresh herbs.

By: atm2003

French meals traditionally include several different courses, including appetizers.

By: Martin Turzak

Terrine is a decadent French appetizer.