What are the Different Types of Macaroni and Cheese?
The two most common types of macaroni and cheese are the baked and stove-top varieties. In general, baked mac and cheese is slightly more involved to prepare than the stove-top type. Many people make baked macaroni and cheese for special occasions because, once it is prepared, there are normally enough servings of it to feed a large group of people. Stove-top mac and cheese is a popular choice as a side dish for easy, convenient dinners. Macaroni and cheese also comes in microwave form, which is usually available in stores in the form of small, single-serving size cups.
Baked macaroni and cheese is normally prepared with basic ingredients that tend to include elbow macaroni noodles, butter, and cheddar cheese. There are many different recipes available for this mac and cheese, and the ingredients tend to vary regarding choices of cheese, pasta shapes, and seasonings. Many people like to experiment with baked mac and cheese because there are so many ingredients that can be added to give each recipe a unique twist. Preparing this type of macaroni and cheese normally requires boiling the noodles, mixing all ingredients together in a casserole dish, and baking them for varying lengths of time depending on what recipe is being used.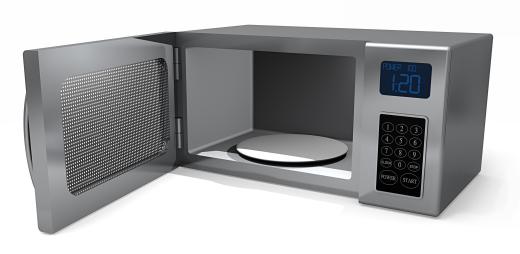 Stove-top macaroni and cheese normally comes in a box that includes enough elbow macaroni noodles to feed approximately four people along with a small packet of processed cheese powder. Preparing this type of mac and cheese normally involves boiling the noodles, draining off the water, and adding in a small amount of butter and milk along with the contents of the cheese packet. The butter and milk help to serve the purpose of not only adding flavor to the macaroni, but also to act as binding agents so the powdered cheese can stick to the noodles. This type of mac and cheese is usually very inexpensive, is quick to prepare, and normally works well as a side dish for many different main courses.
Microwaveable macaroni and cheese is a more recent invention than the stove-top and baked varieties. The microwaveable macaroni and cheese is typically considered a convenience food created to serve one person. This type of mac and cheese generally comes in a foam or plastic cup containing the majority of the ingredients required to make mac and cheese. A specific amount of water is usually necessary to add to the ingredients, and then the mixture may be stirred up and heated in the microwave for a few minutes. There are other types of microwaveable mac and cheese that come already prepared, requiring no mixing of ingredients.
AS FEATURED ON:
AS FEATURED ON:








Instant macaroni and cheese can be made in the microwave.

By: Bert Folsom

Cheddar cheese is often used in macaroni and cheese.

Macaroni and cheese can be baked in individual ramekins.

By: manuart

Some versions of macaroni and cheese are made with smoked Gouda or sharp yellow cheddar cheese.